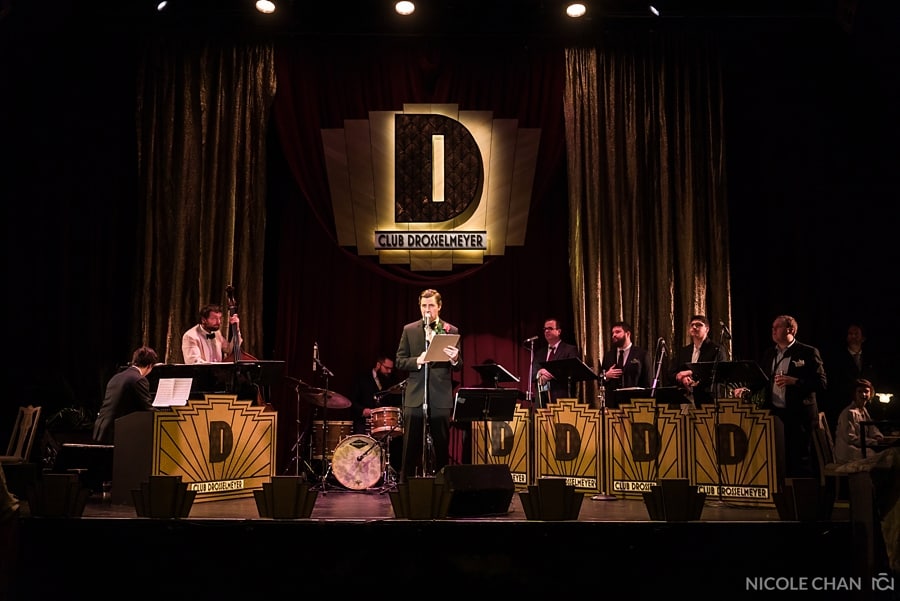 We had heard a lot about Club Drosselmeyer, but even with all of the information, we weren't exactly sure what to expect. Like with all new experiences, Jason, Tina, and I shrugged our shoulders, said yes, and jumped head first. Knowing that we operate best of full stomachs, we stuffed ourselves silly before the doors to Club Drosselmeyer opened and shared excited thoughts with each other on what we thought the night would be about. I've attended a few immersive theater experiences before with my most recent one in New York being abysmal, expensive, and frustrating. (I clearly still haven't recovered from the experience). Club Drosselmeyer was the exact opposite. I have so many wonderful things to say about the team that coordinated Club Drosselmeyer and the experience itself. This night was the highlight of my week! It's a combination of  entertaining actor interactions, multiple puzzle tracks, an eyebrow-raising storyline, and highly talented dance acts that segmeted the night beautifully.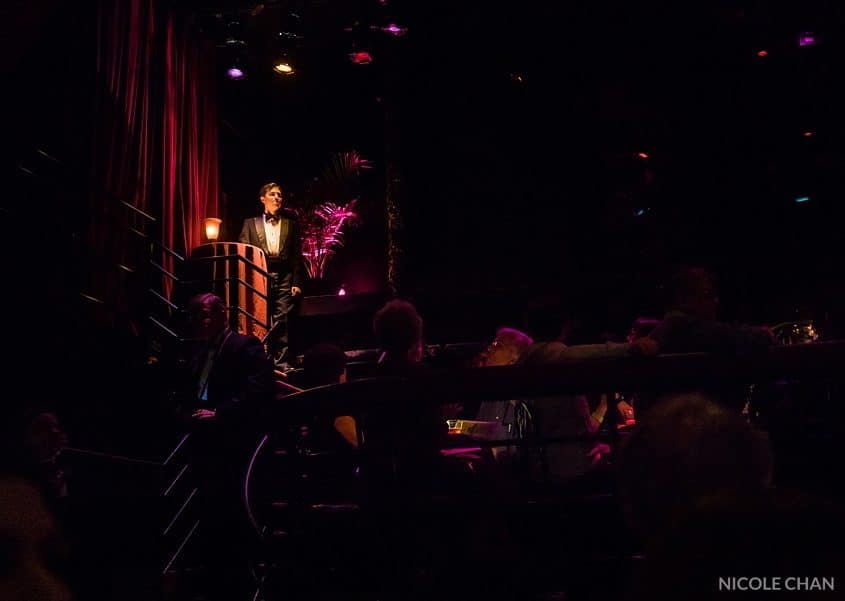 We teamed up with some of the other escape room owners in Massachusetts, and were excited to have done this experience together with them. Team Trapology booked a table right in the middle of the bottom floor. We had front row seats to the show and  had a great table to use as "home base" so that we could come together and solve our puzzles.
At first, the puzzle tracks got us all confused. We were getting duplicate paper puzzles, throwing them at the table, and were tripping over each other. Quickly, we segmented into small groups, divided and conquered. Each puzzle needed to be returned to a specific actor, who would then provide more information. These puzzles also allowed us to make certain decisions, which ultimately changed the ending of the final performance.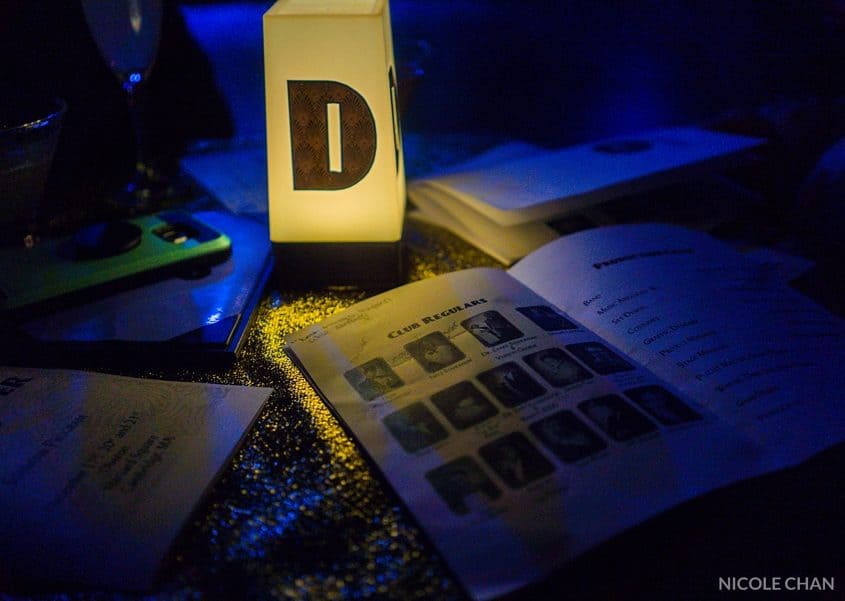 When we entered, we were given a playbill. Tina took copious notes on who was who.
One of the most memorable parts of the evening was when we needed to speak to one actress, who was busy swingdancing. We waited for her to be finished dancing, but I'm not known for being very patient… I asked to cut into the dance, and fumbled my way through swing dancing with the lead costume guy until my team was finished speaking to the actress.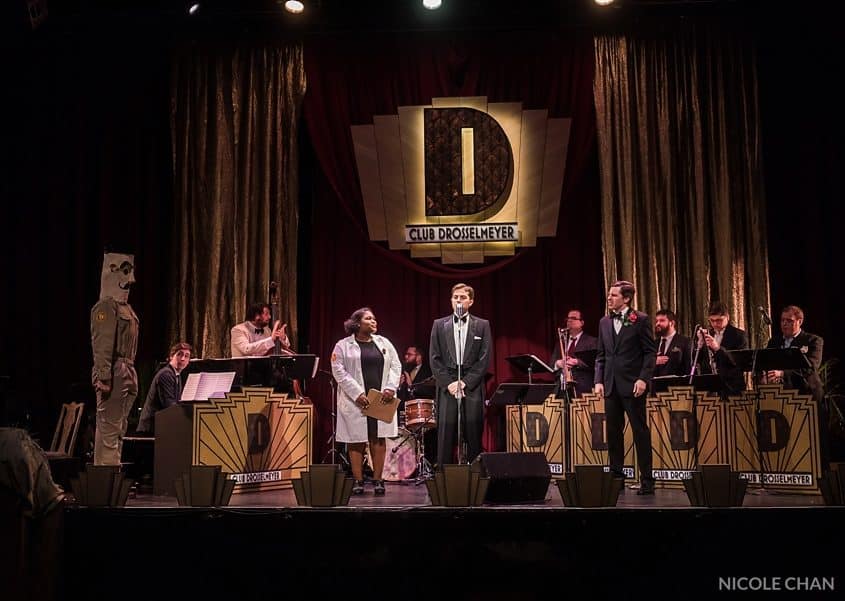 The evening opened with a presentation about Herr Drosselmeyer announcing the new research director of his company, his niece, Clara. She introduces her latest robot, Charlie. The villan, Rat King, introduces his competing robont, RatBot 3000. The two agree to a duel at the end of the evening.
From the website: https://www.clubdrosselmeyer.com/
"IT'S A COLD NIGHT IN DECEMBER 1940, but you're on the list for the hottest club in town! Find mysteries, puzzles, dances, music, and mayhem all at Club Drosselmeyer.
Herr Drosselmeyer and his niece, Dr. Clara Stahlbaum, are busy with new research and development at Drosselmeyer Industries, including the famed military technology Project Nutcracker: Version Charlie.
This technology could change the outcome of the war …for whoever controls it."
As we solved puzzles and talked to actors throughout the night, several dance companies wowed us with their performances.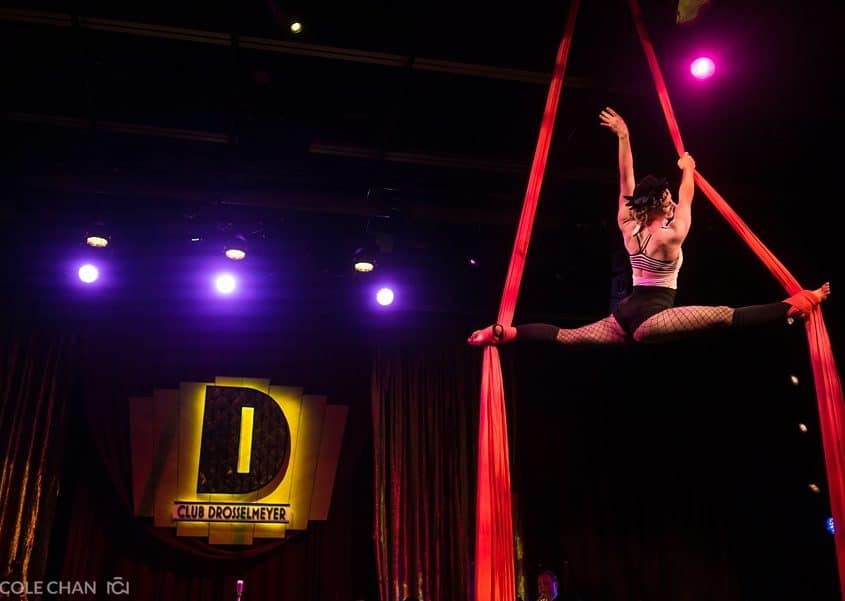 I could go on for days about the environment and ambiance. The band was top notch. The costumes were realistic. The lighting and the setting of the Oberon theater was perfect.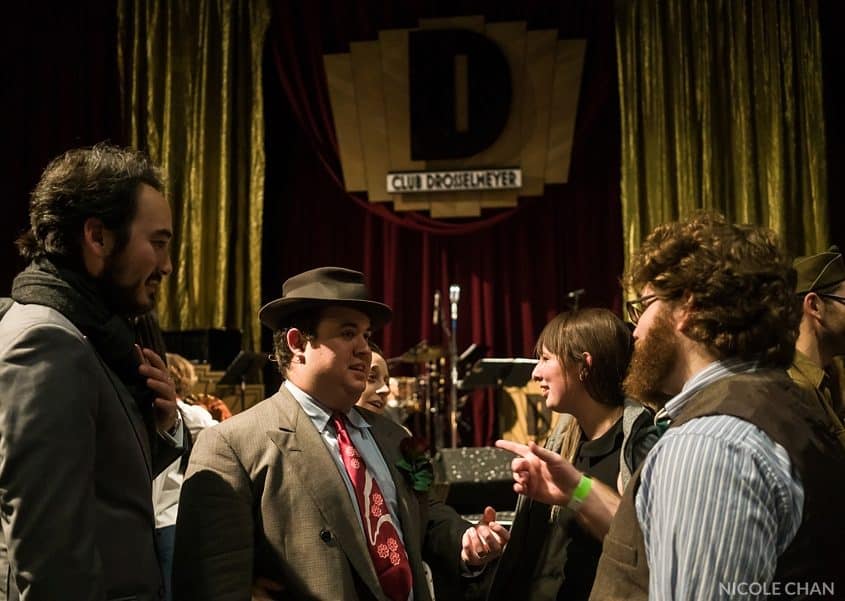 Our team made a specific decision during game play that impacted the ending. We were on Team Evil. We have no regrets. Tina and Jason had some major questions at the end, and The Rat King was very kind to tell us all about the storyline that could have happened, but didn't.
It's not often that Jason, Tina, and I are out of our Trapology hoodies, but when we are, we try to look decent.
Drosselmeyer, kudos to you. Thanks for an AMAZING evening. You exceeded all of our expectations, and then some. We'll see you next year!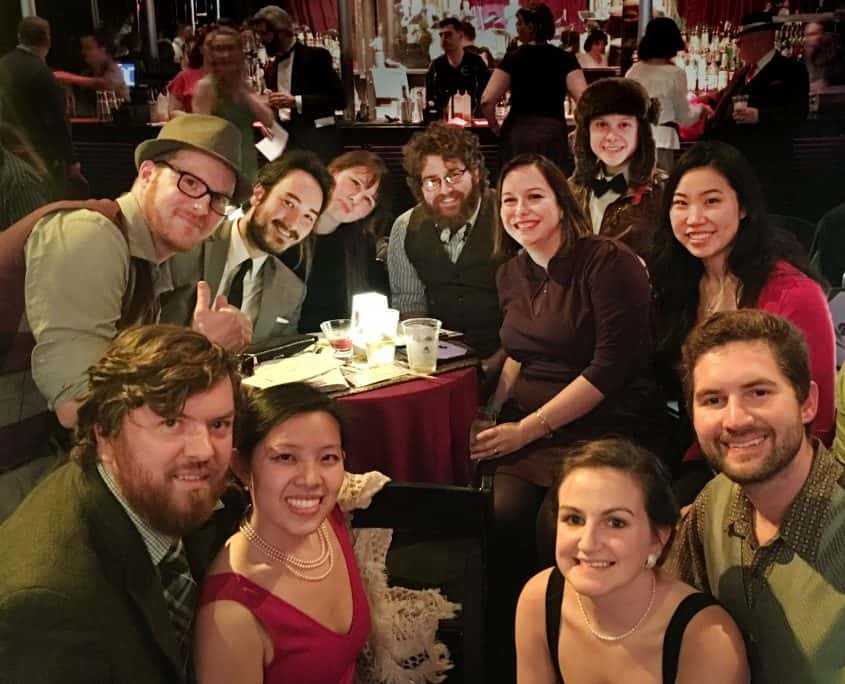 Here's a group photo of our escape room owner team! Represented here are: Trapology Boston, Room Escapers, North Shore Escape, and Curious Escape Rooms!
A special shoutout to Green Door Labs! Thanks for sponsoring such an awesome event, and for always coming by Trapology Boston for your team building!
https://trapologyboston.com/wp-content/uploads/2017/12/Drosslemeyer-Trapology-Boston-Boston-Escape-Game-001.jpg
601
900
Trapology
https://trapologyboston.com/wp-content/uploads/2019/11/White3-500px.png
Trapology
2017-12-21 17:08:45
2020-03-25 19:55:55
Trapology Boston <3s Club Drosselmeyer