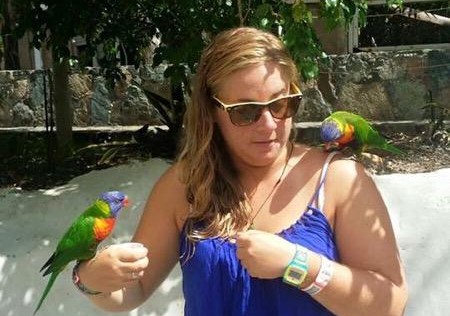 Game Master Bio: Liz
Known Aliases: Elizabeth, Liz, Lizzy-D, Captain Liz
Guilty Pleasure: birds
Pet peeve: The destruction of Coral Reefs
A Brief History
Liz – Game Master by day, a connoisseur of fine antique wallpaper by night. I have no evidence to back up that last claim, but I also have nothing to say it's not legitimate. Truthfully, the only reliable reality here is that Liz may or may not have an extensive knowledge of ancient wallpaper. And no, I'm not getting away from the point of this bio. Trust me, it comes full-circle, and when it does, won't you feel silly about your judgy attitude! But this blog isn't about me, the dashing young New Englander, whose fingertips elicit such beautiful blogs that their wording borders on the poetic. No, this blog is and always shall be for the one and only astounding Game Master and Master of the Sea, Liz. While her living quarters for most of her life have been in Revere, truly her heart belongs to the sea (well that and her nephew – who I must admit is factually ridiculously adorable but don't tell her I told you that).
The Life Aquatic
From a very early age, Liz spent an extensive amount of her time around boats, water, and all sorts of aquatic life. She's basically 'The Incredible Mr. Limpet'. Look it up. If you're in the business of reading about topical and relevant references then you've come to the wrong place. Read literally any other blog for that. But back to Liz. While she was born a Mass native, her credentials as the world's coolest marine biologist have taken her far beyond the boundaries of the commonwealth. Her wayfaring has taken her to the Caribbean, where she's taught sailing and the magic that the oceanic ecosystem has to offer to young aspiring explorers, to Alaska where she served as a data collector for the National Marine Fishery Service, to a plethora of other destinations. Quite recently she's even received her license as a bona fide Captain – so if you see her around show some respect!
Recently over the course of extensive research on Liz for the porpoise* of this bio, I have stumbled upon a few remote destinations that Liz has visited. It seems that she's made quite the impression during her travels because I was able to gather a collection of poems, songs, and other pieces of art created by the people she's visited. Below are a few choice examples:
'Brave Captain'
A Haiku
Oh brave Captain Liz
For you the seas sing brightly
We follow your lead
A Captain's Epic
In the earliest days there is told of a brave sea Captain
One that all adored and which I can attest
In her arms there was safety always wrapped in
But those days are now bygone at best
As the years carried on and the threat of the sea became rarity
Any sightings of the dear sea Captain were utterly hard pressed
What followed were years of peace and prosperity
But what silence there was was short lived and stressed
Across the ocean there brewed a storm that screamed of severity
The sea rose up as if in a mighty rage
Greeting each door with thunderous vulgarity
The rising tides – her instruments, the island – her stage
But all is darkest just before the dawn
For on the horizon there shown a faint glow
The shape of what was long to be thought lost, strikingly burst upon
Toe to toe she went with each shaking blow
A flurry of waves forced her back but those that are her better are none
For although differently looking from the Captain of old she is
Her heroics made it clear that the two Captains were one.
There stood victorious on the coastline, our brave Captain Liz
And that's a wrap! (told you it would come back around). This has been a brief history of our very own Liz. If you'd like a seasoned explorer to lead you through your next intrepid adventure through one of Boston's most difficult and immersive escape rooms, then book a game right here and make sure to request Liz!
*I was never above this and you and I both knew it
TRIVIA ANSWER:
Nylon
https://trapologyboston.com/wp-content/uploads/2018/11/IMG956374-e1543201557577.jpg
316
450
Trapology
https://trapologyboston.com/wp-content/uploads/2019/11/White3-500px.png
Trapology
2018-11-28 14:00:59
2019-06-14 12:43:50
Game Master Bio: Liz