It all started with, Tina saying, "Nicole, someone named Joanie called you and she wants you to design something for her on Twitch".
The very brief phone conversation that I had with Joanie left me extremely excited. Following that phone call were hundreds of e-mails, phone calls, Zoom video chats, and in-person brainstorming sessions about the Twitch interactive escape game. Each time we spoke, we clarified our goals for the project a little bit more. When our teams (and legal counsel) reached an agreement and a signed project plan, I cried tears of happiness. Jason and I signed the contract while we were in the middle of nowhere Alaska. Getting proper signal to return it back was a challenge in itself!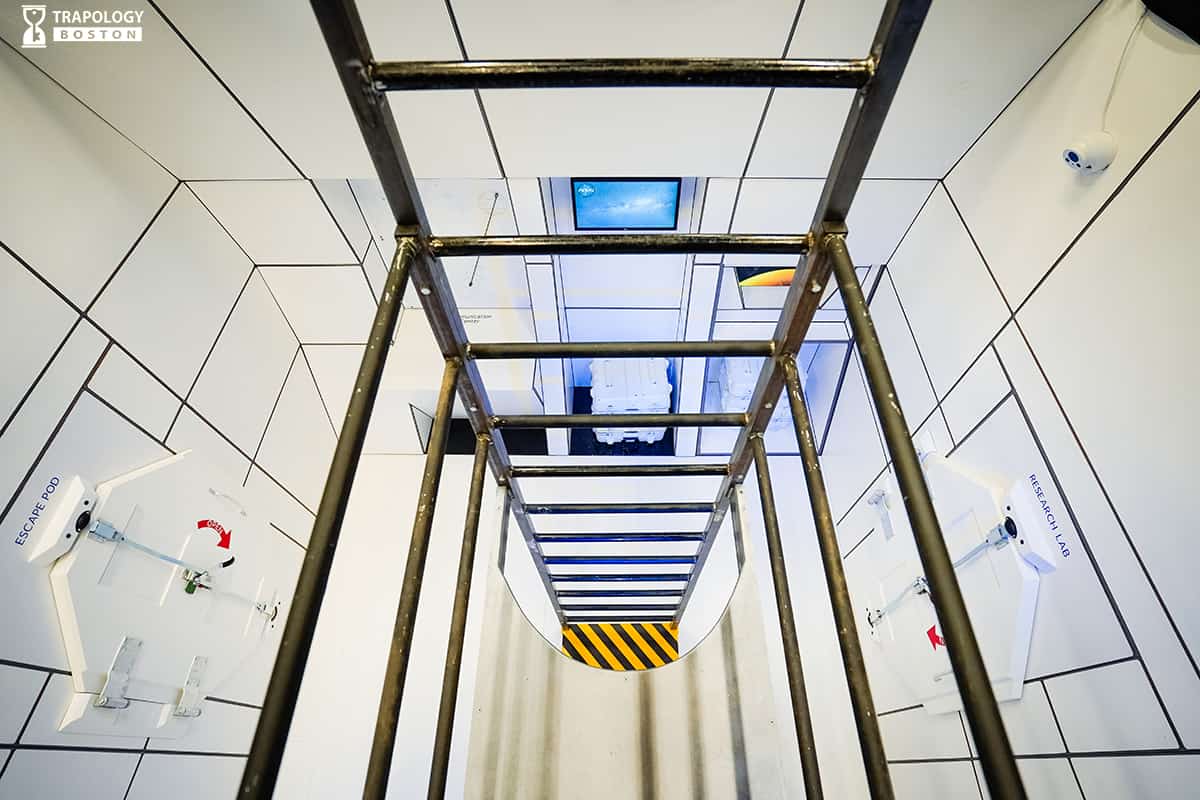 The goal:
Design and build an interactive escape game in six weeks. It would be live-streamed on Twitch. YouTube and Twitch influencers would be the players. Trapology would design not one, but two sets of puzzles – one set for the live in-studio players and another set for the viewers on Twitch. In addition, WGBH would be live-streaming our design sessions, behind the scenes content, build days, production meetings, and interviews.
You can watch the entire stream here:
https://www.twitch.tv/collections/WR0QdyUawxU0Iw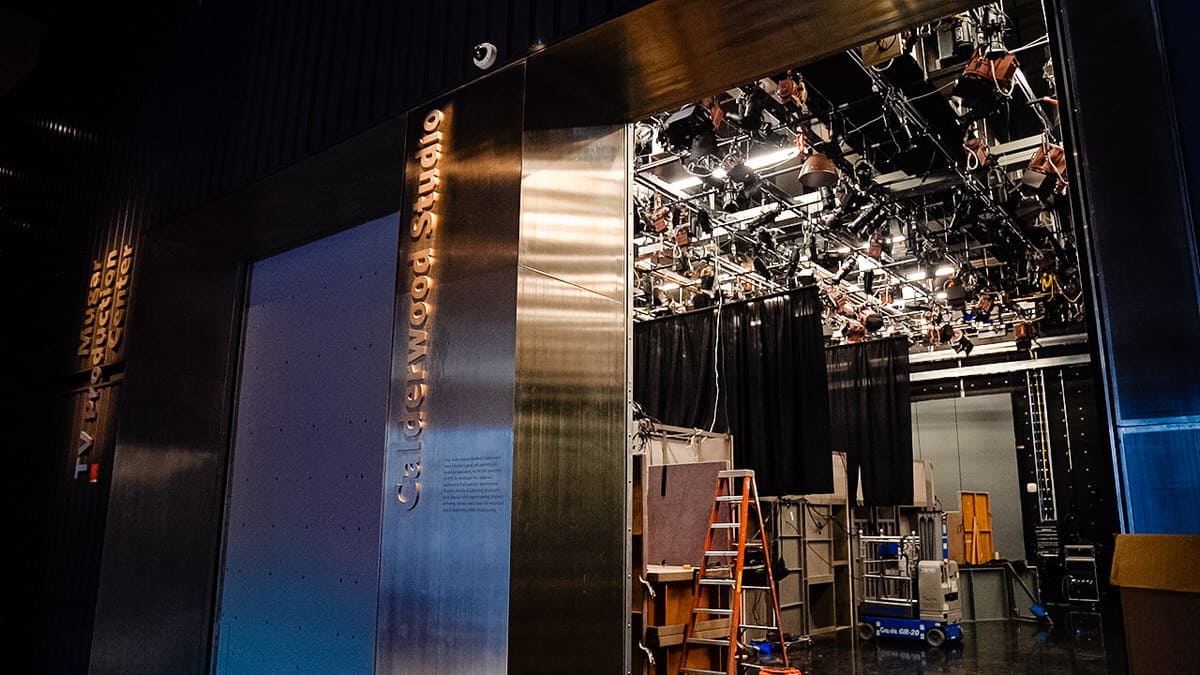 During a brainstorming session, we talked about a STEM theme for the Twitch interactive escape game
Dozens of ideas were tossed around. Some were very bad ideas. Here are some of the slightly better ones: Clean renewable energy, chemistry lab experiments, and a time machine that would bring us back to the Mesozoic era. WGBH selected the concept that we all loved the most: Space. (Well, it was my close second choice. Dinosaurs will always be my first choice!)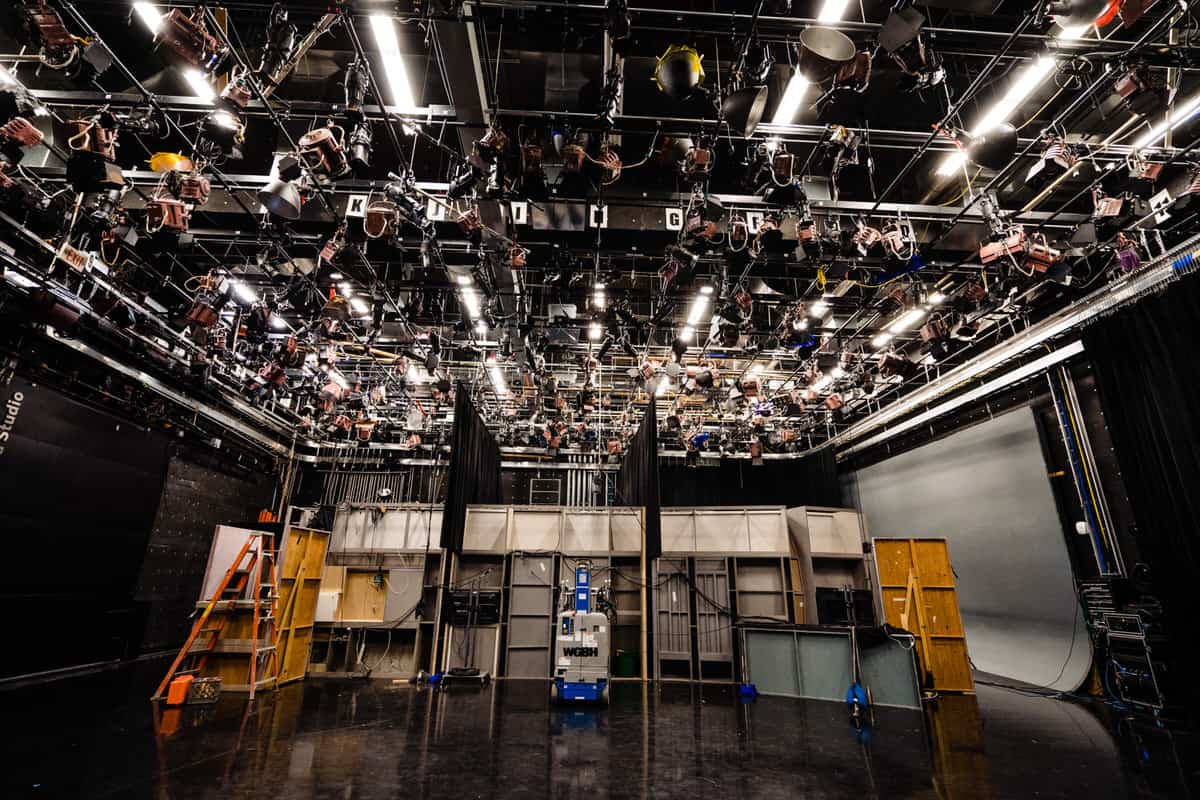 In one week, I video-conferenced with five different people from NASA!
It was important to us that our game design was based on science. Though we ultimately ended up on a futuristic Space Station that was orbiting Mars, everything that we designed is within close-future reach or already happening on the International Space Station, such as growing vegetables and 3D printing. Joanie, Tory, and Rob, of the Emerging Platforms group at WGBH, connected us with all of the right people. We were able to interview folks from NASA including a flight directors, engineers from the NASA Jet Propulsion Laboratory, and experts about the current experiments on the International Space Station.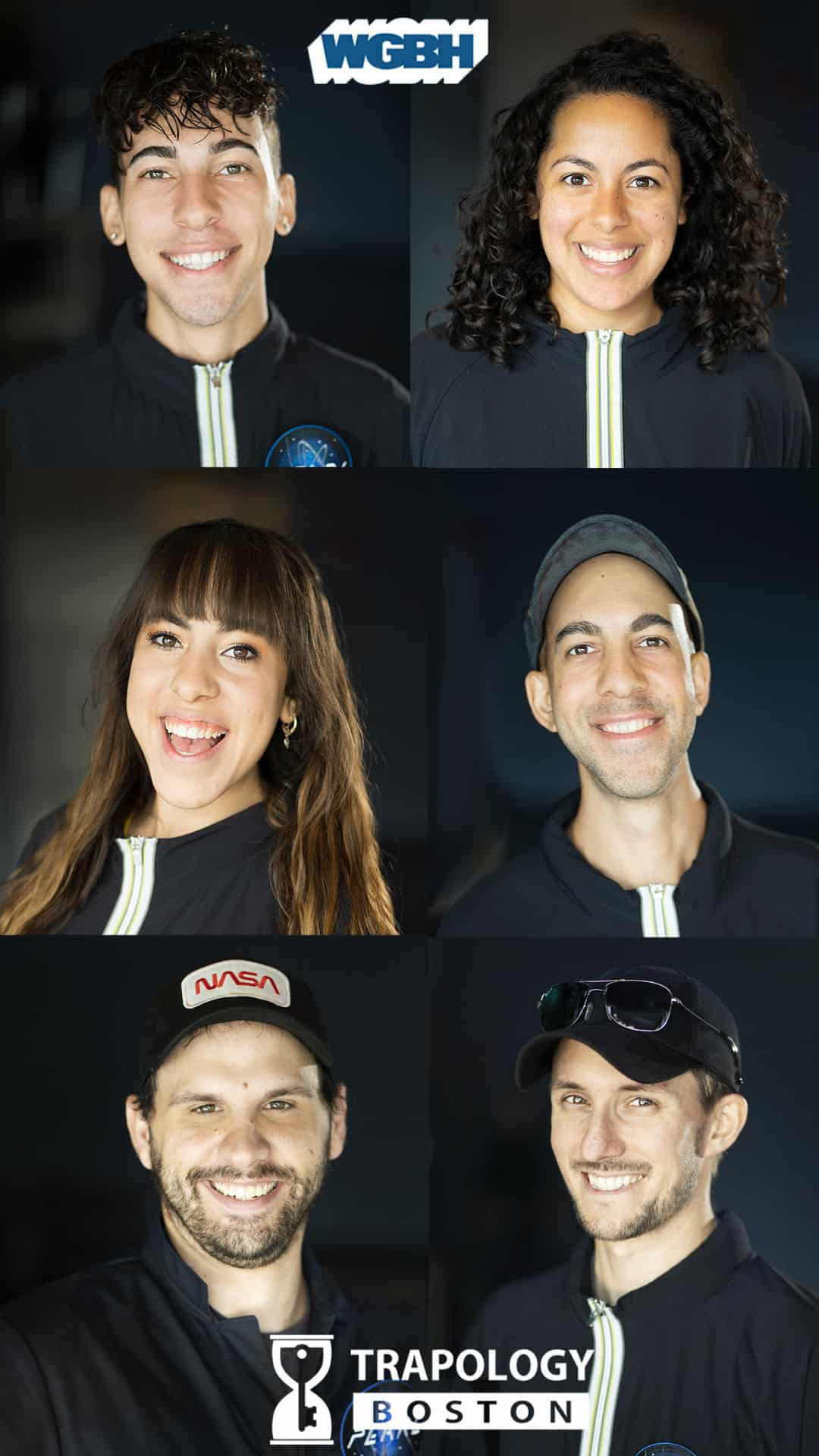 I photographed all of the headshots above! Photo credit: Nicole Chan Studios
The WGBH team lined up a fierce group of astronaut players for the Twitch interactive escape game: The Skorys focus on puzzles, games, and all-around hysterical positivity with 1.43 million YouTube subscribers, EJ_SA focusing on Kerbal Space Program and an incredible space-related influencer with 54,000 Twitch followers, and Das Valdez who streams about science, technology, explosions, and math wit his 60,000+ Twitch followers. The experience was hosted by Justin Shaifer, the emerging STEM personality who is entertaining and very relatable.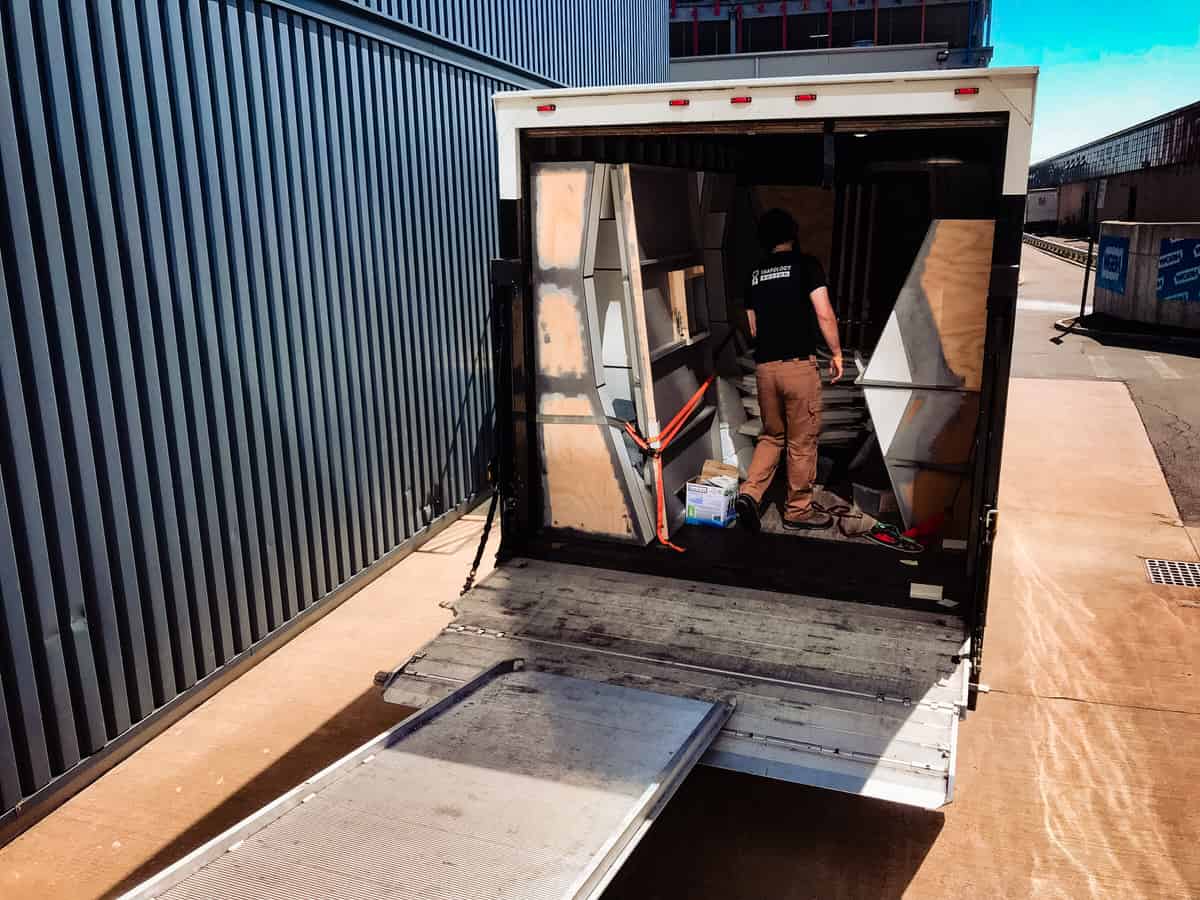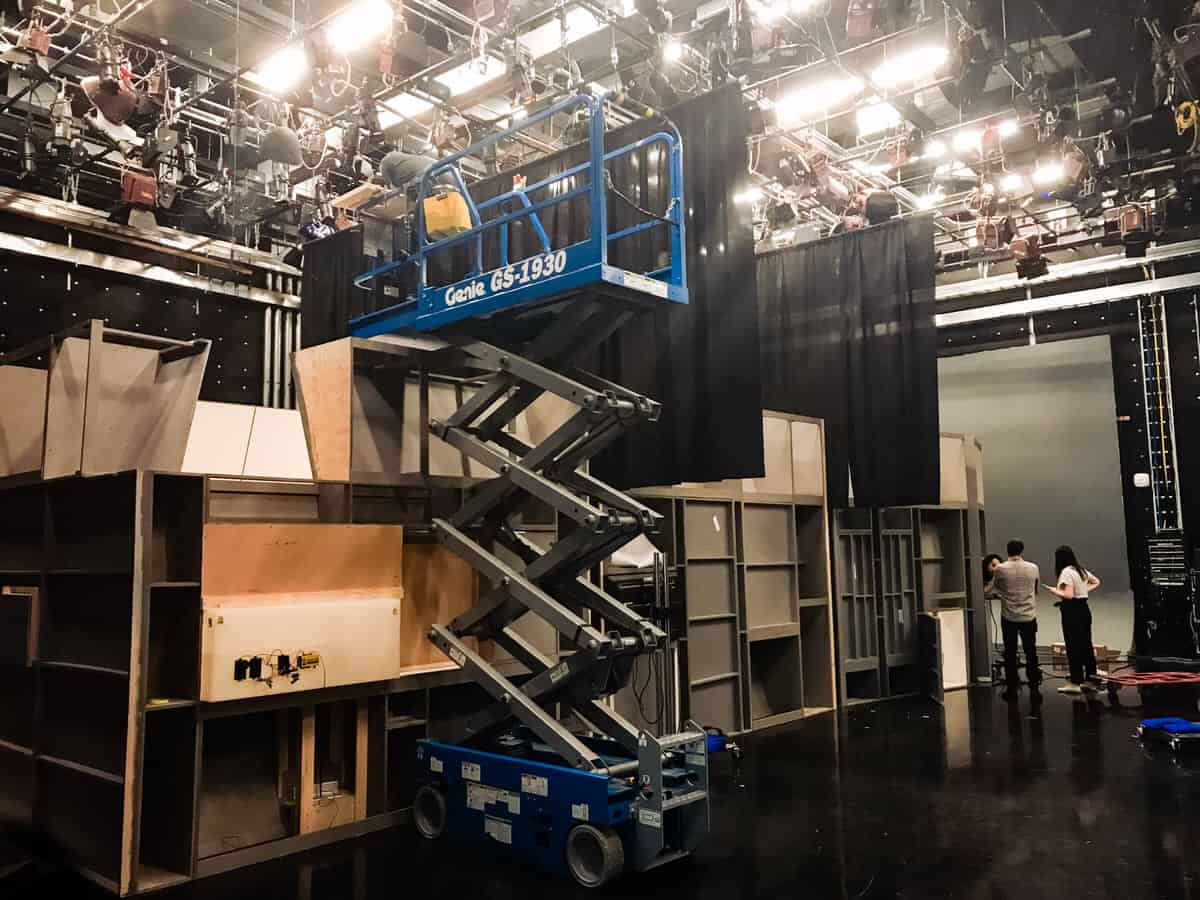 Designing this Twitch interactive escape game was much different than the typical Trapology escape game because of its scale, timeline, and audience.
Together, we wrote a script for Justin to interact with the players. His role was "CapCom" or Capsule Communicator. Joanie took this rough script and translated it into multiple documents for the production crew. Trapology designed a puzzle experience for the astronauts that are physically in the game, but also puzzles and interaction opportunities for our Twitch audience. Typically, the escape game players dictate their successes and failures. It was interesting to be able to have the Twitch audience decide some critical elements that helped and hindered the astronauts.
Jason often lost his box of screws.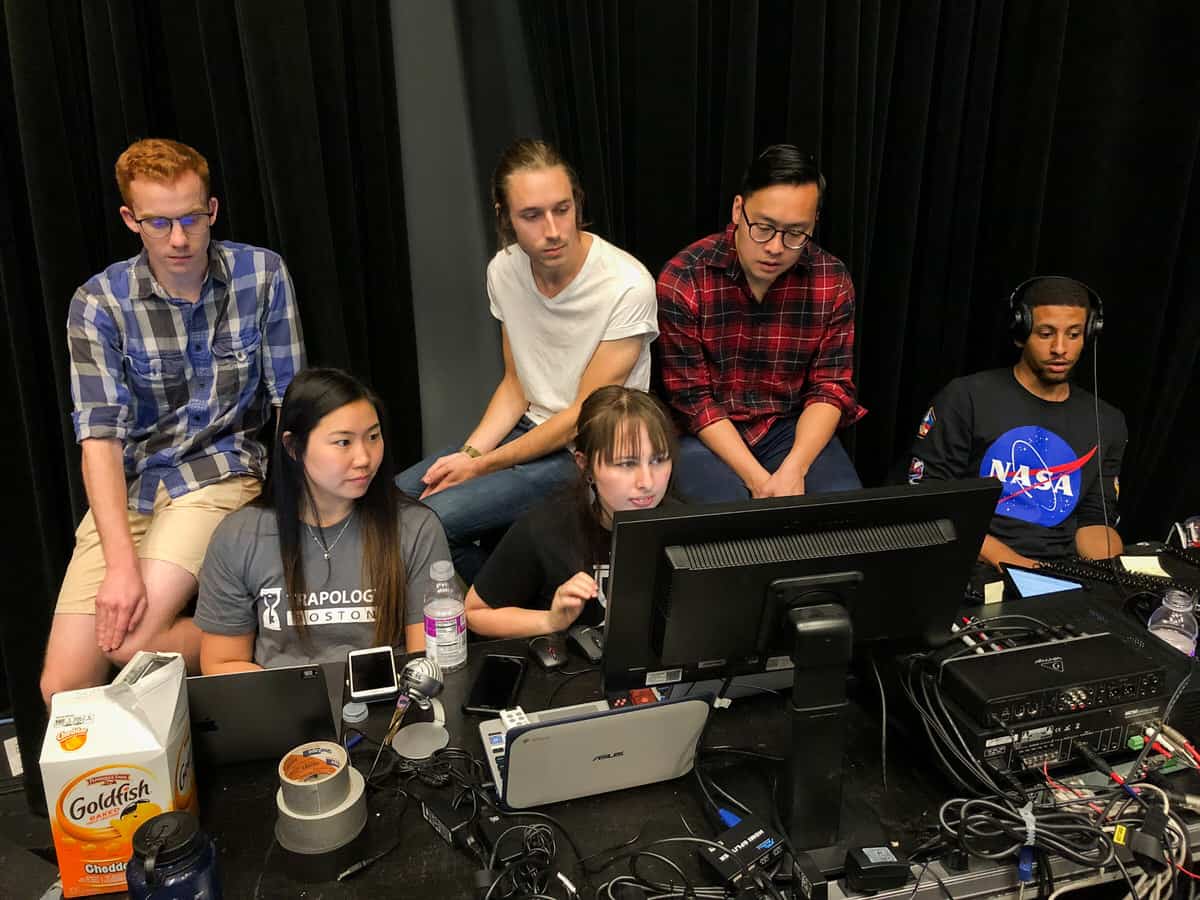 Above and below was our Trapology game master station.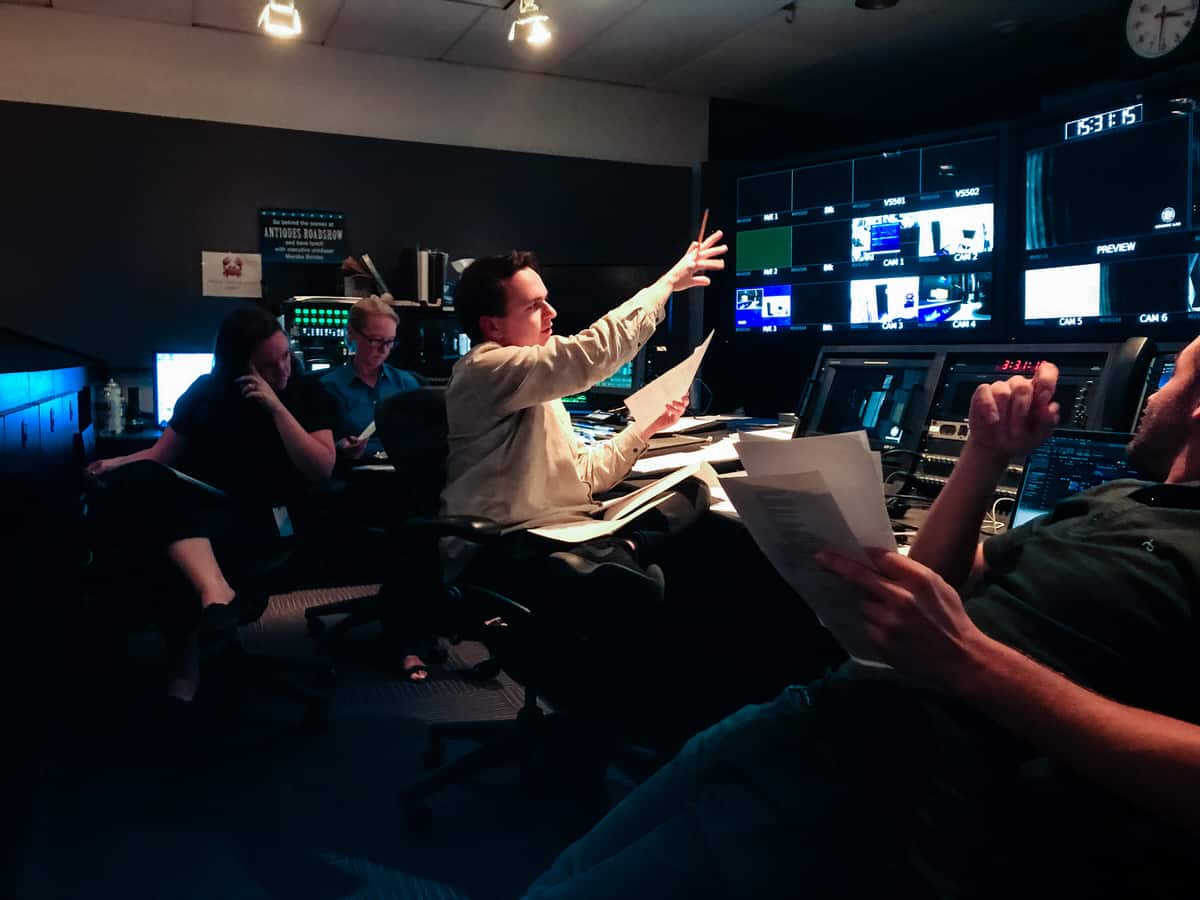 Everything was heightened!
We had our normal cameras, audio, and speakers within the experience, but WGBH also had their own set of cameras, audio, speakers, and so many cables and wires so that their control rooms would be able to choose which camera to feature in the stream. Trapology had our standard Control Room setup. CapCom (Justin) and ChatCom (Tory) had their own Control Room, where they interacted with the chat and of course had several cameras and mic pacs. Then, there was a third, the mother of all Control Rooms. Eddie, the director, called the shots in this one. He chose which camera was "live". I admired his control of multi-tasking and quick-speaking, clear direction.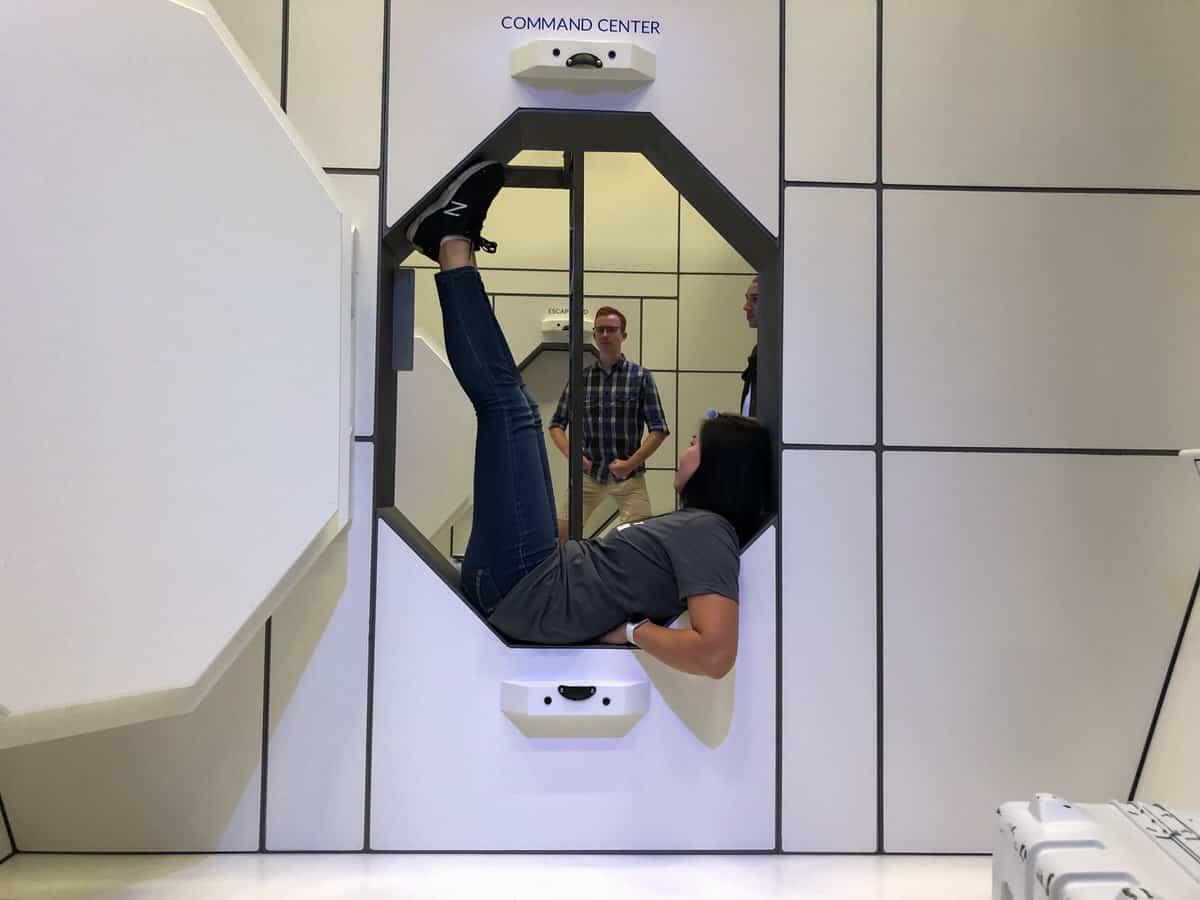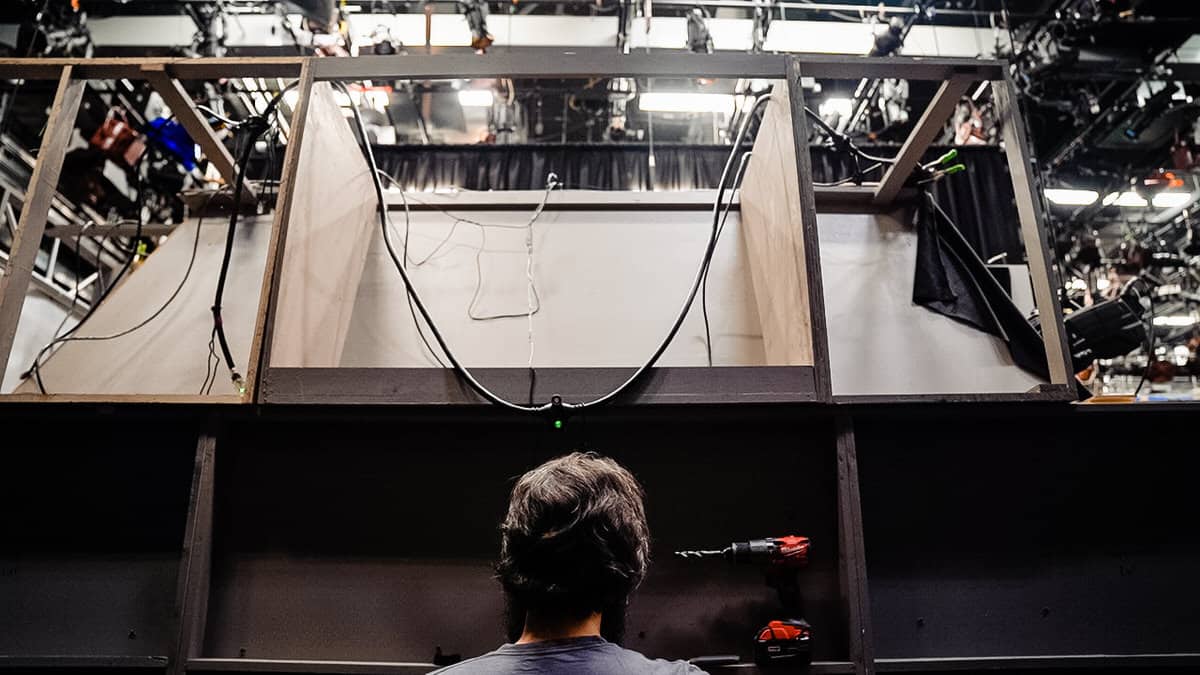 The Narrative
You are astronauts on a futuristic international space station that is orbiting Mars. The space station was built by a private space agency called PEARL (Planetary Exploration Agency of Remote Locations). You're conducting experiments on the space station such as growing plants and vegetables on the Space Station as well as 3D printing using Mars rocks and soil.
The Twist
There was a extreme air leak that causes you and your team to evacuate into the Emergency Pod.
The Additional Layer
The Twitch chat is called ENID, the US government's agency for Exploration and Navigation of Intragalactic Domains, which PEARL relies on for support. ENID makes some critical decisions that impacts the gameplay. They can either help or hinder!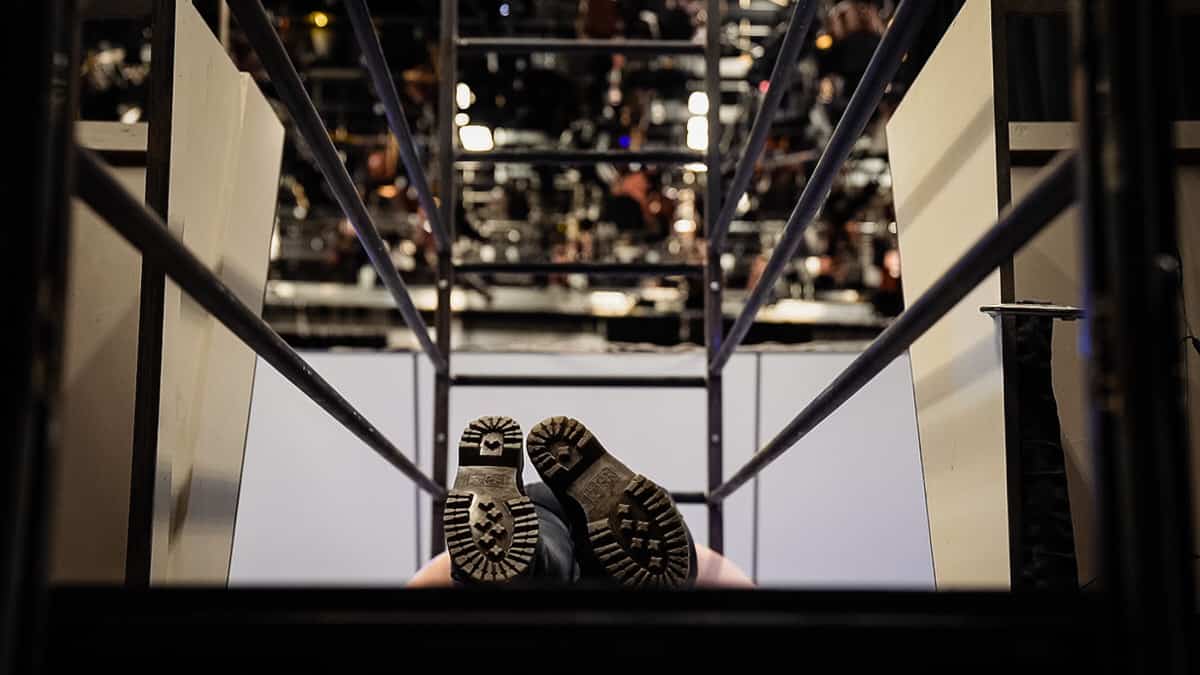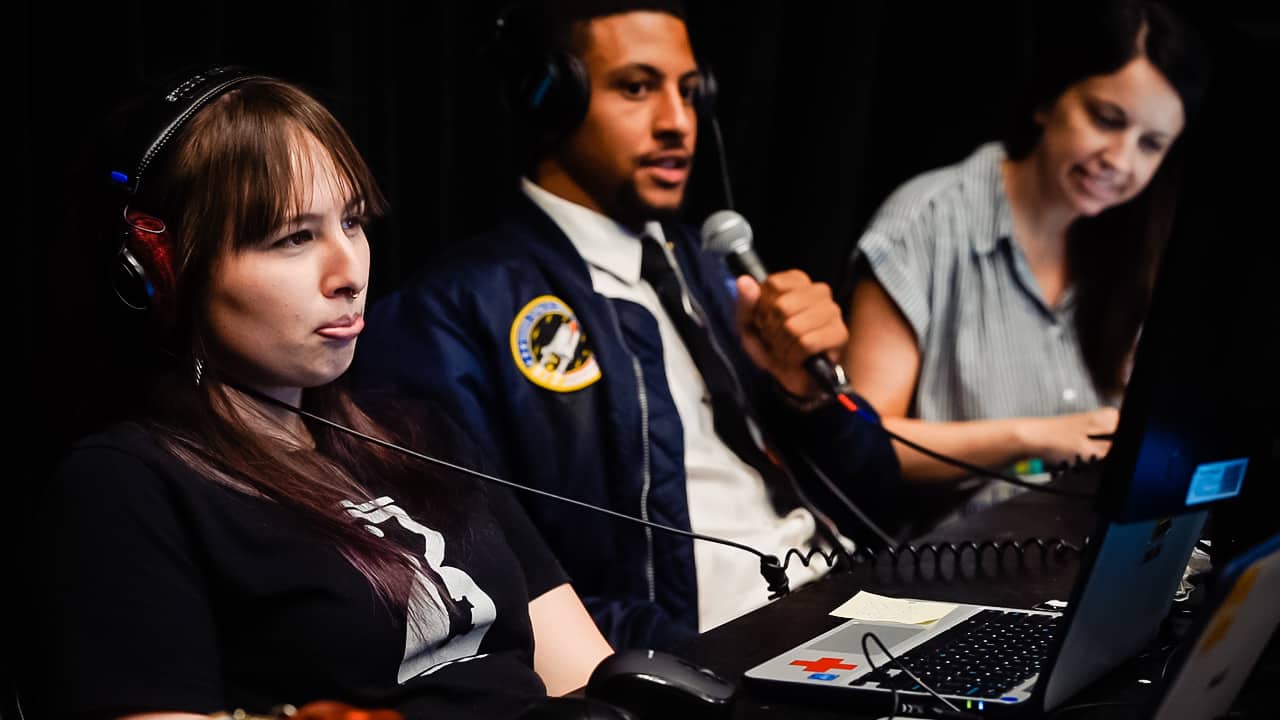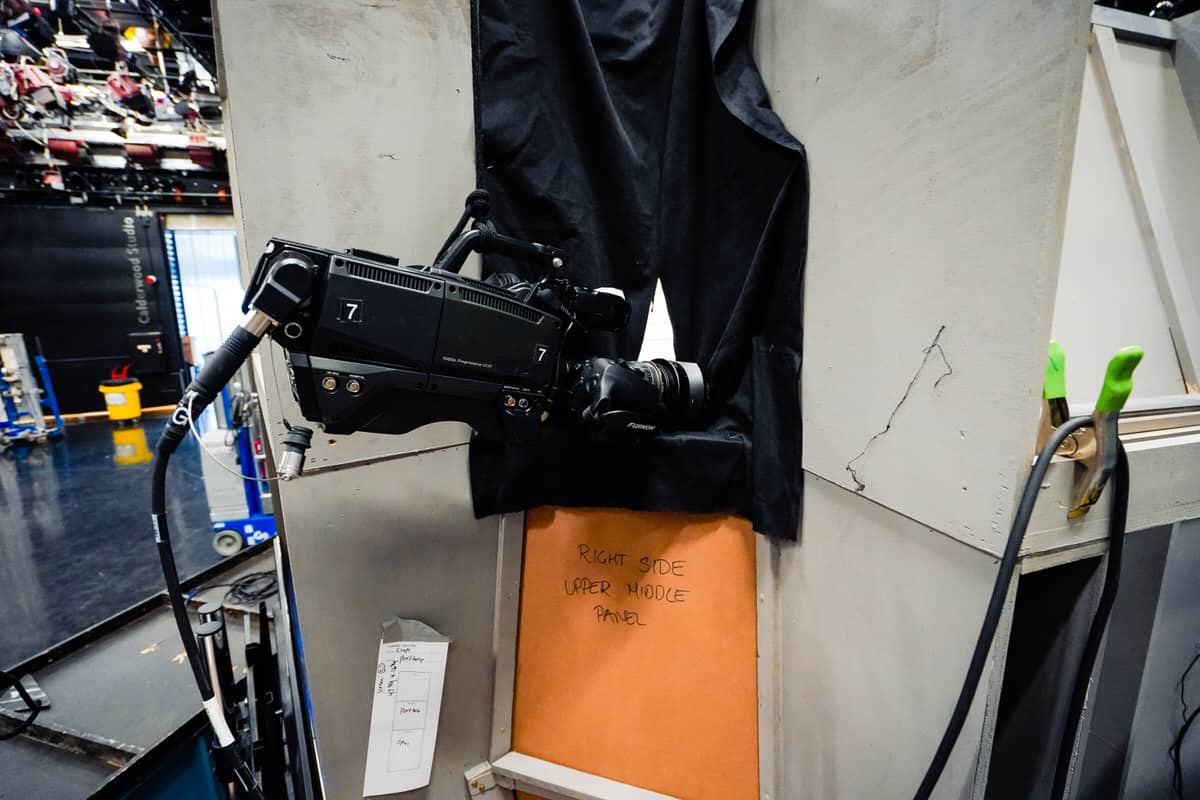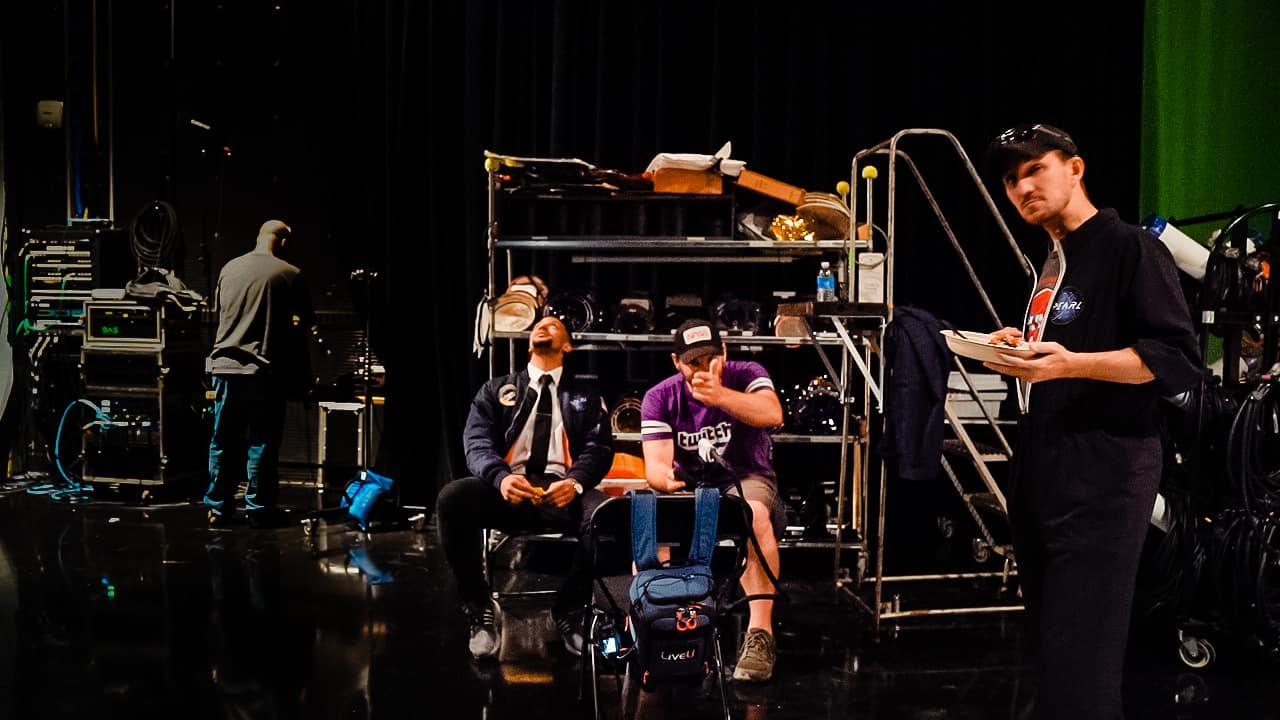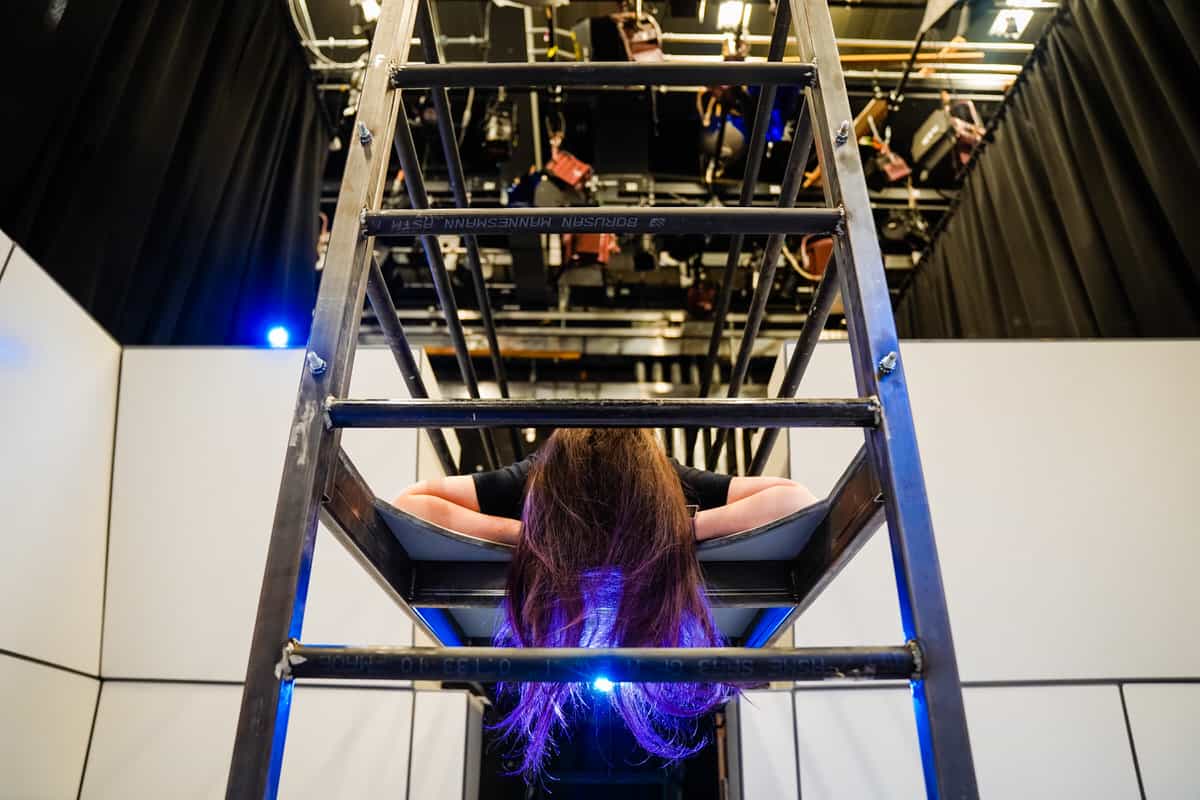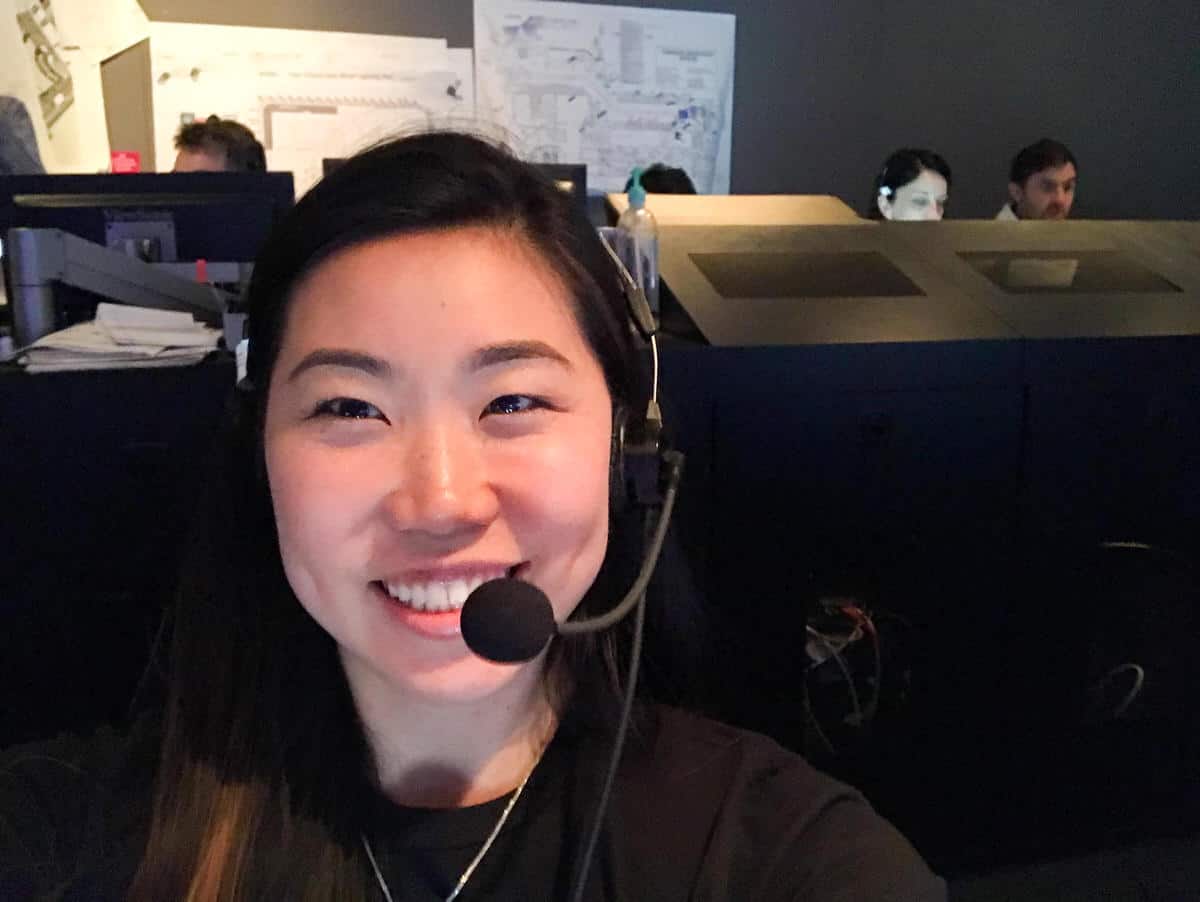 This project exceeded all of our expectations.
We had so much fun creating it and are so thankful to WGBH for the partnership and the opportunity. I now have a whole new vocabulary: take, QQ, box, and so many more. I also have a newfound respect for those that contribute to TV and broadcasting.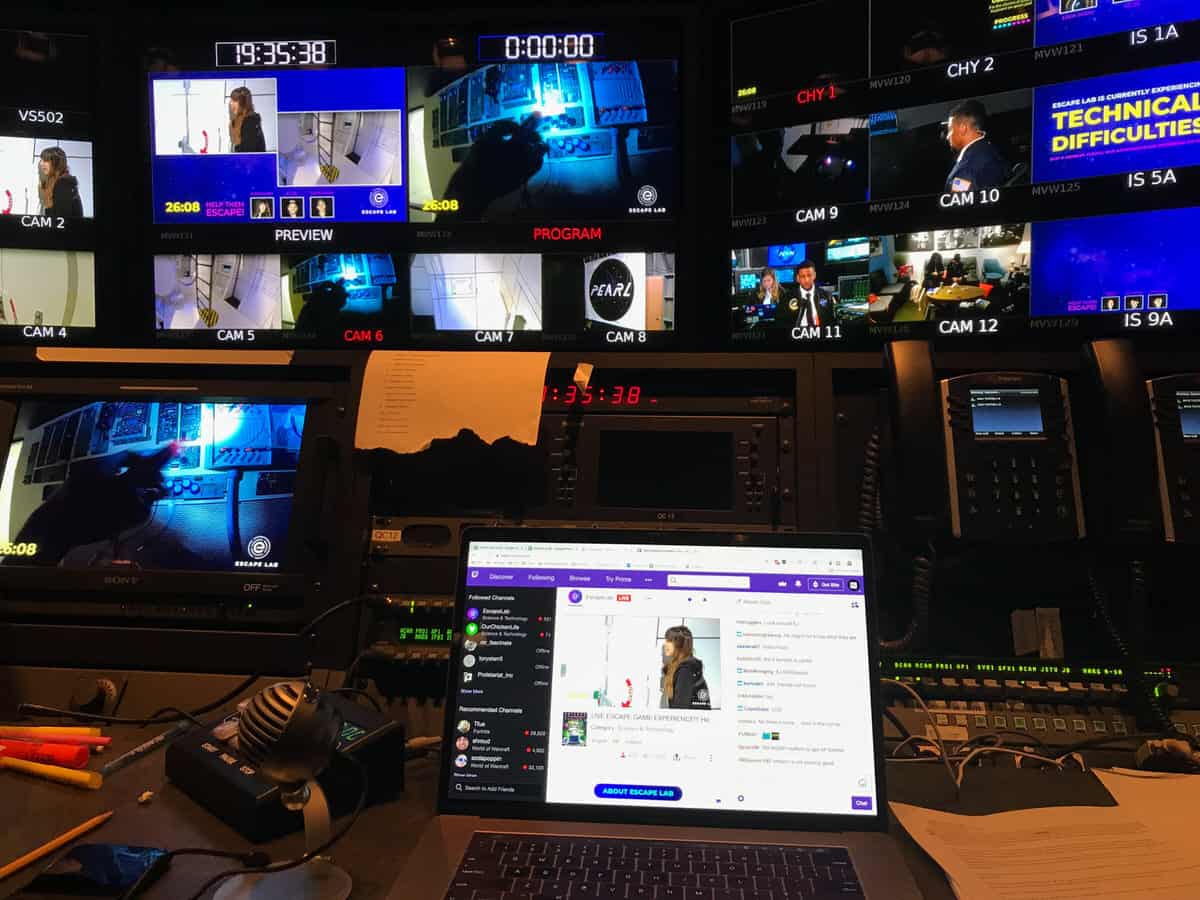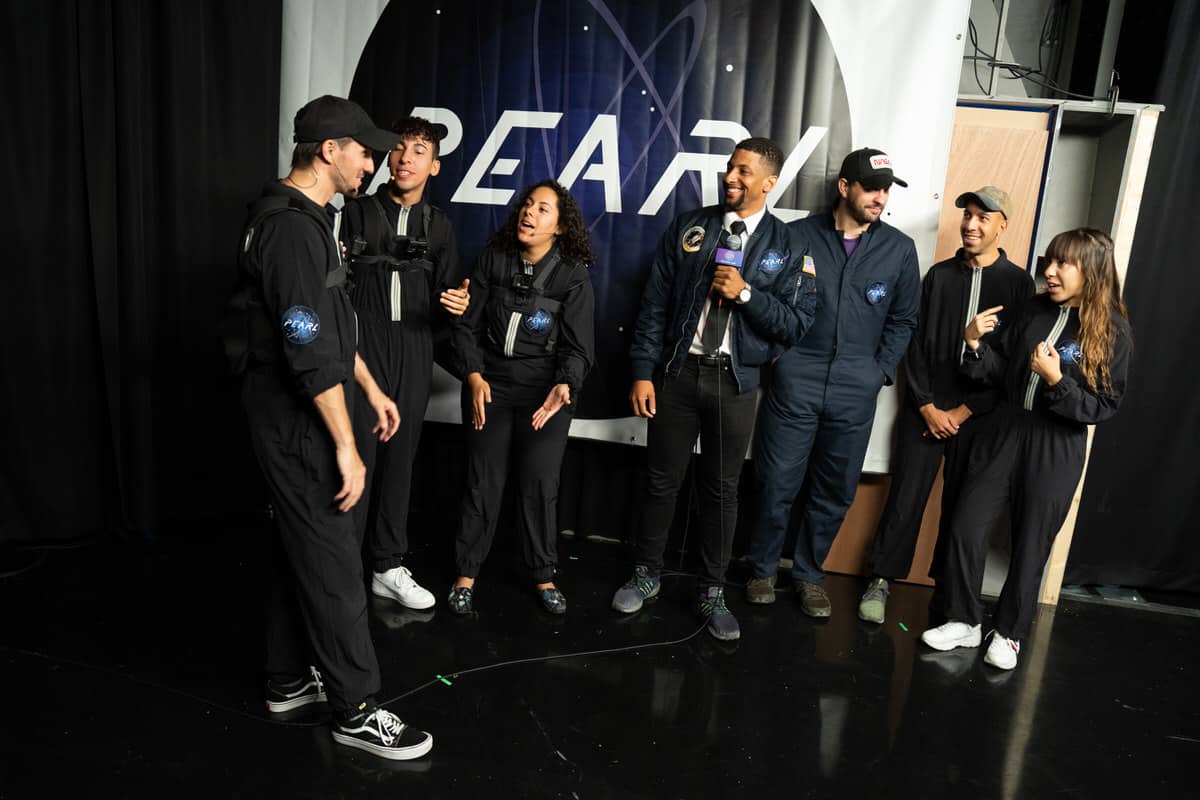 Below is one of my favorite ENID interactions. Twitch Chat had to use a heat map to click around the game to help the astronauts find out where a key was hidden!
This amazing collaborative partnership with public media company, WGBH, was the most fun we've had all year. Tory, Joanie, and Rob are positive, supportive, and creative individuals who went above and beyond to give us as much as they could. The WGBH staff became our new work family for these weeks – Steve, Phil, Margaret, Chloe, Eddie, Hillary, and many more. We even became close with the security guys when we checked in daily for our contractor badges. They'd ask us, "How's your spaceship coming?" One would even remind us, "It's almost Launch Day!" To everyone at WGBH, it was a joy to work with you all. We will miss our game master desk station in the corner of Calderwood.
The spaceship is on display!
The PEARL Spaceship is living at WGBH for another two weeks. Trapology Staff will be giving tours and running private games for WGBH VIPs!
You can watch the entire stream here:
https://trapologyboston.com/wp-content/uploads/2019/09/pearl-spaceship-behind-the-scenes-escape-game-trapology-boston-twitch-wgbh-nicole-chan-studios-0062.jpg
1200
1800
Trapology
https://trapologyboston.com/wp-content/uploads/2019/11/White3-500px.png
Trapology
2019-09-14 23:04:53
2019-09-14 23:30:57
Trapology partners with WGBH to create a Twitch interactive escape game