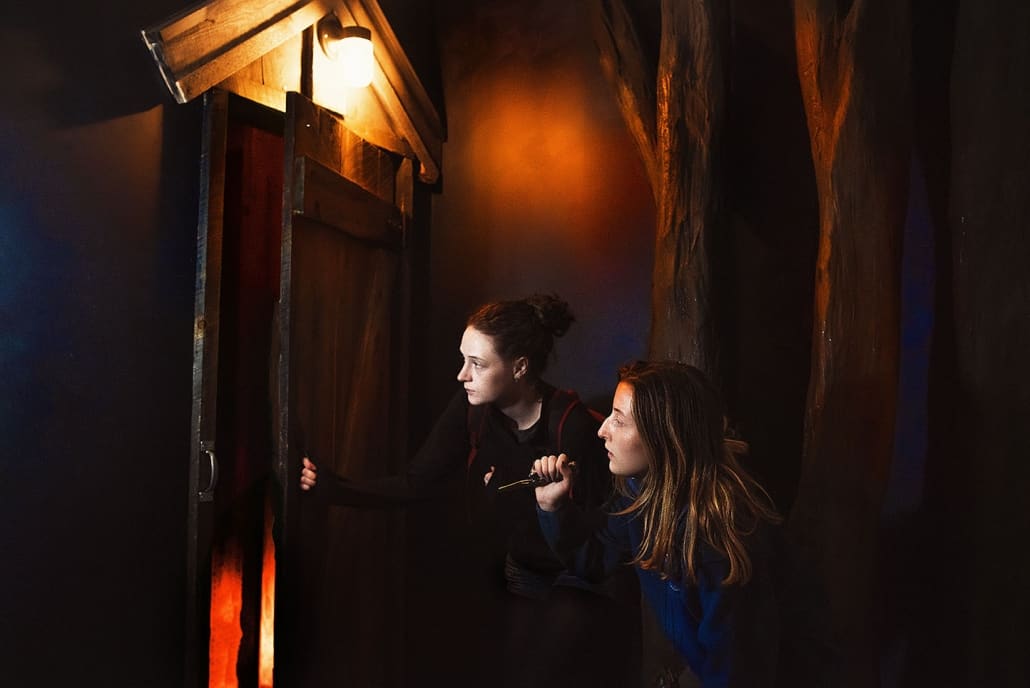 So you want to do an escape room but don't know if they're too scary for you?
"Are escape rooms scary?" is a popular question! Some are worried about being locked in a room for a long time. Others are uneasy about the idea of tackling multiple puzzles?
No need to fear! Most escape games here at Trapology aren't very scary, although a few do have a bit of thrill and suspense to them. We aren't a haunted house experience, so don't come expecting to be seeing something out of a horror movie.
As for your concerns about being locked in one of our escape rooms, the doors to our escape games are always unlocked or able to be unlocked with our emergency exit buttons located next to our locked doors (but this is NOT an accepted form of escape, so don't try it).
Quite often the more timid participants are the ones who end up contributing the most to the puzzles. Everyone's input is important! You might notice something no one else has, and that small detail might be the difference between getting out of your escape room and being locked up here at Trapology overnight!
Just kidding… or are we?
FAQ – Are Escape Rooms scary?
Are escape rooms claustrophobic?
This concern is quite often shared with us, and for a very good reason. This is definitely the top concerns players have about escape games, "I'm claustrophobic. Are escape games for me?" For those of us who have a hard time dealing with small spaces, the idea of intentionally being locked in a room for an hour is a terrifying one. Of course, this was a top priority in the designing of our rooms; keeping everyone comfortable. We believe our escape rooms are rather spacious and you won't feel crammed into them. While playing any one of our rooms, participants will, at all times, have the ability to unlock the door and leave the room for any emergency reason.
Are escape rooms good for kids?
Some of Trapology escape games refer to adult themes (ie: drinking, drugs, gambling, etc.) However, we frequently hear from parents that their children know more about these themes than they do! As of 06/2020, all of our escape rooms are private, so when you book tickets into a game, you and your group will be the only people playing the escape room together.
Are there jump scares in escape rooms?
Here at Trapology, none of our escape games have jump scares. There might be things that catch you off guard, but nothing will be popping out at you and getting in your personal space. If you'd like to have a laugh and watch a jump scare, here's Chris Evans teaming up with Trapology to create his own Captain America escape room experience!
What is the scariest escape room in Boston?
The spookiest escape room in Boston is The Retreat. It's a spooky campsite-themed escape room that tasks you with solving the mystery of disappearing camping guests. There's no jump scares, but you should come in expecting a bit of haunted-house visuals.
Will I be in the escape room with strangers?
As of 06/2020, all of our escape rooms are private, so when you book tickets into a game, you and your group will be the only people playing the escape room together.
Are escape rooms dangerous?
While some of our escape games may be a bit spooky, there's no danger involved (as long as you follow the rules given by your game master). The game masters here at Trapology are here to ensure your safety at all times!
Can you leave an escape room?
Yes! You will never be locked in one of Trapology escape rooms. All doors will be unlocked in case you get overwhelmed or need to go to the bathroom.
Have more questions? Email us!