We see it all too often: disappointment, rage, sadness. Our players' experience a range of emotions when realizing that Trapology Boston does not actually provide the drinks leading them to their Drunk Tank lockup. However, after the game (if you haven't learned your lesson) you and your team might want to head out for a celebratory drink, or one to drown your sorrows away. Either way, there are a ton of nearby options for you to choose from and we've compiled a top ten list of bars based on ratings and proximity! So you are sure to find the best Downtown Boston bar for your taste.
A map directing you to the perfect Downtown Boston Bar:
Teatro:
Located just one floor beneath Trapology Boston, Teatro is the most convenient bar following a game here. This is the place for you if you're in the mood for a crafty cocktail or a classic Italian dish.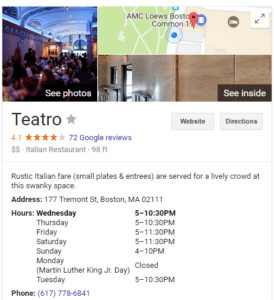 The Tam:
The Tam is just a 2 minute walk from Trapology Boston. Reviewers rave about the cheap but strong drinks along with the friendly atmosphere. Be aware this bar is cash only, so be sure to make a quick stop at the ATM if you're thinking of stopping by here!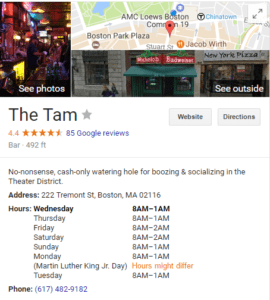 Sip Wine Bar and Kitchen:
If you are looking for a more quiet and casual night cap, Sip Wine Bar is a good bet. They offer wine by the sip, which allows guests to try different varieties.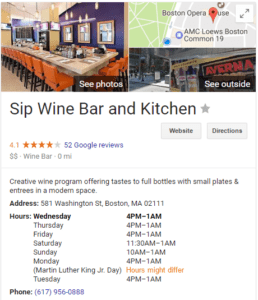 Shojo Boston:
Awarded the top Downtown Boston bar for cocktails by Travel + Leisure, Shojo Boston will surely provide you with a good time. This bar provides a modern asian flare to it's unique cocktails.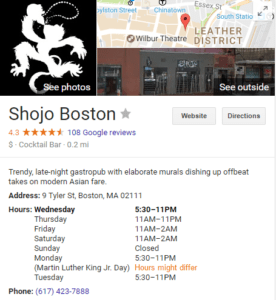 JM Curley:
Named after one of Boston's most celebrated mayors, James Michael Curley, this bar is a fittingly good place to celebrate with friends. Reviewers rave about their extensive beer list, and blended concoctions blended up right before your very eyes.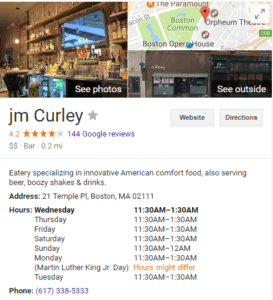 JJ Foley's Bar & Grille:
A family-owned bar since 1909, JJ Foley's is a friendly Irish pub located in South Boston. They pride themselves on great food, drinks, and service that has followed the family tradition.
Good Life:
In the neighborhood is Good Life bar. It is a hip Downtown Boston bar offering a youthful vibe and a great cocktail menu. The bar also acts as a great hub for nightlife, being a 2 floor mini club.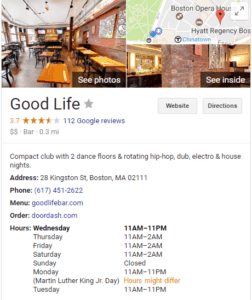 Yvonne's:
It may look like you are walking into a hair salon, but in actuality you are entering one of Boston's coolest, hippest restaurants/bar. If we may go as far as to suggest a drink… an Old Fashioned.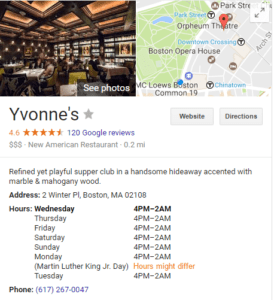 Cheers Beacon Hill:
"Where everybody knows your name!" Visit everyone's favorite watering hole, Cheers in Beacon Hill. Enjoy some great pub food, drinks, and the famous sitcom facade. If you are going to eat, we suggest the chili.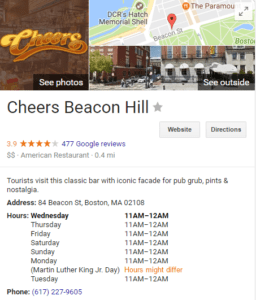 Silvertone Bar & Grill:
In this below-ground hip location, Silvertone offers great, warming food and an extended list of specialty cocktails. This Downtown Boston bar is themed with a retro vibe that creates a truly enjoyable setting to relax with friends.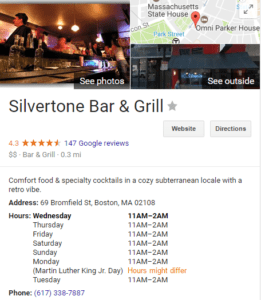 We are sorry that we can't offer you the liquid courage that you may think you need to escape. And we do want to let you know that drinking prior to the game is definitely not the right idea. However, we think going for some celebratory drinks (or ones to sooth your loss) are a great idea, and that is why we have compiled this list.