[av_heading heading='Recap: Trapology Boston's first Immersive theater puzzle experience, "Keep Your Garter Up"' tag='h3′ link=" link_target=" style=" size=" subheading_active=" subheading_size='15' margin=" padding='10' icon_padding='10' color=" custom_font=" icon_color=" show_icon=" icon=" font=" icon_size=" custom_class=" id=" admin_preview_bg=" av-desktop-hide=" av-medium-hide=" av-small-hide=" av-mini-hide=" av-medium-font-size-title=" av-small-font-size-title=" av-mini-font-size-title=" av-medium-font-size=" av-small-font-size=" av-mini-font-size=" av-medium-font-size-1=" av-small-font-size-1=" av-mini-font-size-1="][/av_heading]
[av_three_fifth first av_uid='av-1v1vwem']
[av_slideshow size='large' animation='slide' autoplay='false' interval='5′ control_layout=" av_uid='av-1u56zku']
[av_slide id='1743′ slide_type=" video='http://' mobile_image=" video_ratio='16:9′ video_controls=" video_mute=" video_loop=" video_autoplay=" title=" link_apply=" link=" link_target=" av_uid='av-1s52r2m'][/av_slide]
[av_slide id='1754′ slide_type=" video='http://' mobile_image=" video_ratio='16:9′ video_controls=" video_mute=" video_loop=" video_autoplay=" title=" link_apply=" link=" link_target=" av_uid='av-1qh0ra6′][/av_slide]
[av_slide id='1767′ slide_type=" video='http://' mobile_image=" video_ratio='16:9′ video_controls=" video_mute=" video_loop=" video_autoplay=" title=" link_apply=" link=" link_target=" av_uid='av-1oxefy6′][/av_slide]
[av_slide id='1766′ slide_type=" video='http://' mobile_image=" video_ratio='16:9′ video_controls=" video_mute=" video_loop=" video_autoplay=" title=" link_apply=" link=" link_target=" av_uid='av-1naf8ri'][/av_slide]
[av_slide id='1765′ slide_type=" video='http://' mobile_image=" video_ratio='16:9′ video_controls=" video_mute=" video_loop=" video_autoplay=" title=" link_apply=" link=" link_target=" av_uid='av-1lj5q0u'][/av_slide]
[av_slide id='1764′ slide_type=" video='http://' mobile_image=" video_ratio='16:9′ video_controls=" video_mute=" video_loop=" video_autoplay=" title=" link_apply=" link=" link_target=" av_uid='av-1ivonge'][/av_slide]
[av_slide id='1763′ slide_type=" video='http://' mobile_image=" video_ratio='16:9′ video_controls=" video_mute=" video_loop=" video_autoplay=" title=" link_apply=" link=" link_target=" av_uid='av-1hkgjr2′][/av_slide]
[av_slide id='1762′ slide_type=" video='http://' mobile_image=" video_ratio='16:9′ video_controls=" video_mute=" video_loop=" video_autoplay=" title=" link_apply=" link=" link_target=" av_uid='av-1gdxk0e'][/av_slide]
[av_slide id='1761′ slide_type=" video='http://' mobile_image=" video_ratio='16:9′ video_controls=" video_mute=" video_loop=" video_autoplay=" title=" link_apply=" link=" link_target=" av_uid='av-1dsa2jy'][/av_slide]
[av_slide id='1760′ slide_type=" video='http://' mobile_image=" video_ratio='16:9′ video_controls=" video_mute=" video_loop=" video_autoplay=" title=" link_apply=" link=" link_target=" av_uid='av-1ccouzi'][/av_slide]
[av_slide id='1759′ slide_type=" video='http://' mobile_image=" video_ratio='16:9′ video_controls=" video_mute=" video_loop=" video_autoplay=" title=" link_apply=" link=" link_target=" av_uid='av-1bk0ery'][/av_slide]
[av_slide id='1758′ slide_type=" video='http://' mobile_image=" video_ratio='16:9′ video_controls=" video_mute=" video_loop=" video_autoplay=" title=" link_apply=" link=" link_target=" av_uid='av-1a9rvxq'][/av_slide]
[av_slide id='1757′ slide_type=" video='http://' mobile_image=" video_ratio='16:9′ video_controls=" video_mute=" video_loop=" video_autoplay=" title=" link_apply=" link=" link_target=" av_uid='av-189md4u'][/av_slide]
[av_slide id='1756′ slide_type=" video='http://' mobile_image=" video_ratio='16:9′ video_controls=" video_mute=" video_loop=" video_autoplay=" title=" link_apply=" link=" link_target=" av_uid='av-15tapji'][/av_slide]
[av_slide id='1755′ slide_type=" video='http://' mobile_image=" video_ratio='16:9′ video_controls=" video_mute=" video_loop=" video_autoplay=" title=" link_apply=" link=" link_target=" av_uid='av-41o5xa'][/av_slide]
[av_slide id='1753′ slide_type=" video='http://' mobile_image=" video_ratio='16:9′ video_controls=" video_mute=" video_loop=" video_autoplay=" title=" link_apply=" link=" link_target=" av_uid='av-128c072′][/av_slide]
[av_slide id='1752′ slide_type=" video='http://' mobile_image=" video_ratio='16:9′ video_controls=" video_mute=" video_loop=" video_autoplay=" title=" link_apply=" link=" link_target=" av_uid='av-10tifzy'][/av_slide]
[av_slide id='1751′ slide_type=" video='http://' mobile_image=" video_ratio='16:9′ video_controls=" video_mute=" video_loop=" video_autoplay=" title=" link_apply=" link=" link_target=" av_uid='av-ztbxke'][/av_slide]
[av_slide id='1750′ slide_type=" video='http://' mobile_image=" video_ratio='16:9′ video_controls=" video_mute=" video_loop=" video_autoplay=" title=" link_apply=" link=" link_target=" av_uid='av-xm8xa6′][/av_slide]
[av_slide id='1749′ slide_type=" video='http://' mobile_image=" video_ratio='16:9′ video_controls=" video_mute=" video_loop=" video_autoplay=" title=" link_apply=" link=" link_target=" av_uid='av-vq8d4u'][/av_slide]
[av_slide id='1748′ slide_type=" video='http://' mobile_image=" video_ratio='16:9′ video_controls=" video_mute=" video_loop=" video_autoplay=" title=" link_apply=" link=" link_target=" av_uid='av-uk9qf2′][/av_slide]
[av_slide id='1747′ slide_type=" video='http://' mobile_image=" video_ratio='16:9′ video_controls=" video_mute=" video_loop=" video_autoplay=" title=" link_apply=" link=" link_target=" av_uid='av-tazpv2′][/av_slide]
[av_slide id='1746′ slide_type=" video='http://' mobile_image=" video_ratio='16:9′ video_controls=" video_mute=" video_loop=" video_autoplay=" title=" link_apply=" link=" link_target=" av_uid='av-qwpsla'][/av_slide]
[av_slide id='1745′ slide_type=" video='http://' mobile_image=" video_ratio='16:9′ video_controls=" video_mute=" video_loop=" video_autoplay=" title=" link_apply=" link=" link_target=" av_uid='av-py1q1a'][/av_slide]
[av_slide id='1744′ slide_type=" video='http://' mobile_image=" video_ratio='16:9′ video_controls=" video_mute=" video_loop=" video_autoplay=" title=" link_apply=" link=" link_target=" av_uid='av-ofqzny'][/av_slide]
[/av_slideshow]
[/av_three_fifth]
[av_textblock size=" font_color=" color=" av_uid='av-lcy09q']
Our 'fake wedding' event, KEEP YOUR GARTER UP, was a smashing success, and all for a good cause!
The day went off with more than a couple "hitches", as our bride and groom, Christina and Jeff, were married on Sunday, April 29th at The Hampshire House, on the north side of the Boston Public Garden, at both 1pm and 7pm ceremonies. Attendees mingled and scavenged across multiple floors of the reception hall, enjoying refreshments while solving puzzles and unravelling the secrets of the wedding party.
The group that solved all puzzles in the fastest time was offered the opportunity to choose their own resolution and bring a member of the wedding party to justice. VIP guests were treated to an additional hour of interactive puzzling around the Beacon Hill neighborhood.
[/av_textblock]
[av_three_fifth first av_uid='av-gug64u']
[av_image src='https://trapologyboston.com/wp-content/uploads/2018/05/IMG_2759.jpg' attachment='1779′ attachment_size='full' align='center' animation='no-animation' styling=" hover=" link=" target=" caption=" font_size=" appearance=" overlay_opacity='0.4′ overlay_color='#000000′ overlay_text_color='#ffffff' av_uid='av-fe6b7y'][/av_image]
[av_textblock size=" font_color=" color=" av_uid='av-drdjim']
The whole cast and crew!
[/av_textblock]
[/av_three_fifth]
[av_textblock size=" font_color=" color=" av_uid='av-ammgz2′]

"Civil Clue-Union", our afternoon winners, sent off-putting pharmaceutical heir Bruce to the slammer, whereas our evening puzzlers, "[Redacted]", chose to send the bride Christina to serve some hard time in place of a honeymoon. The old adage appears true: to some marriage is a word; to others, it's a sentence.

We are also pleased to announce that all proceeds from the event are being donated to Doctors Without Borders. To be able to make a contribution based on everyone's interest and attendance is incredibly exciting.
We couldn't be more excited about the feedback we have received from this event, and we cannot wait to drum up the next event for you to enjoy.
[/av_textblock]
[av_three_fifth first av_uid='av-77rw0e']
[av_video src='https://vimeo.com/271540459′ format='16-9′ width='16' height='9′ av_uid='av-5uc9ni']
[/av_three_fifth]
[av_textblock size=" av-medium-font-size=" av-small-font-size=" av-mini-font-size=" font_color=" color=" id=" custom_class=" av_uid='av-2z99z2′ admin_preview_bg="]
At Trapology, we're constantly improving, building, and conjuring, and scheming. Through the whole short two months of planning for "Keep Your Garter Up", there have been many that have given us their incredible support. Most have said, "You're nuts", but ultimately, our wild idea of an immersive theater puzzle event won them over. We can't thank them enough for volunteering their time and talent.
Photography and Videography
Nicole Chan Photo & Video: We're thrilled to have Boston's best wedding photographers and videographers, Promessa Studios, as a sponsor for Trapology's "Keep Your Garter Up". Karen, Syd, and Micha, thank you for capturing amazing candid moments for us and for being so great to collaborate with.
Design, Decor, and Florals
Love Decor Us: Shruti and Rishi own a design and decor company that provided gold multi-height centerpieces and silk purple orchids. Love Decor is one of the fastest growing wedding and event decor companies in Boston. Shruti is without a doubt, the secret sauce and the heart of the company. She is patient, creative, and has a sharp eye for all things colorful.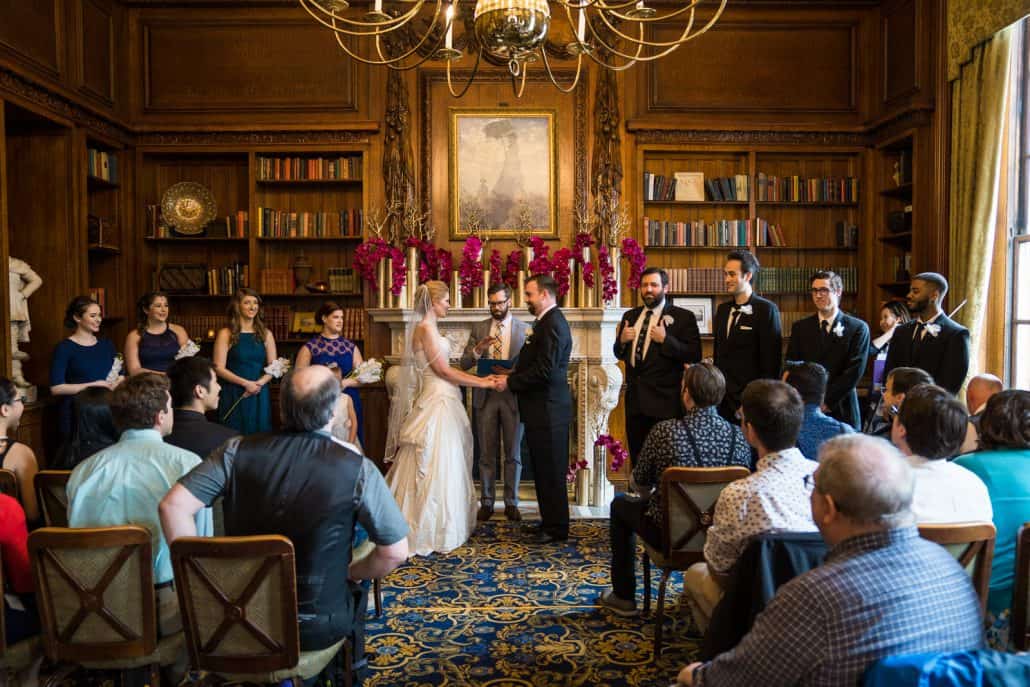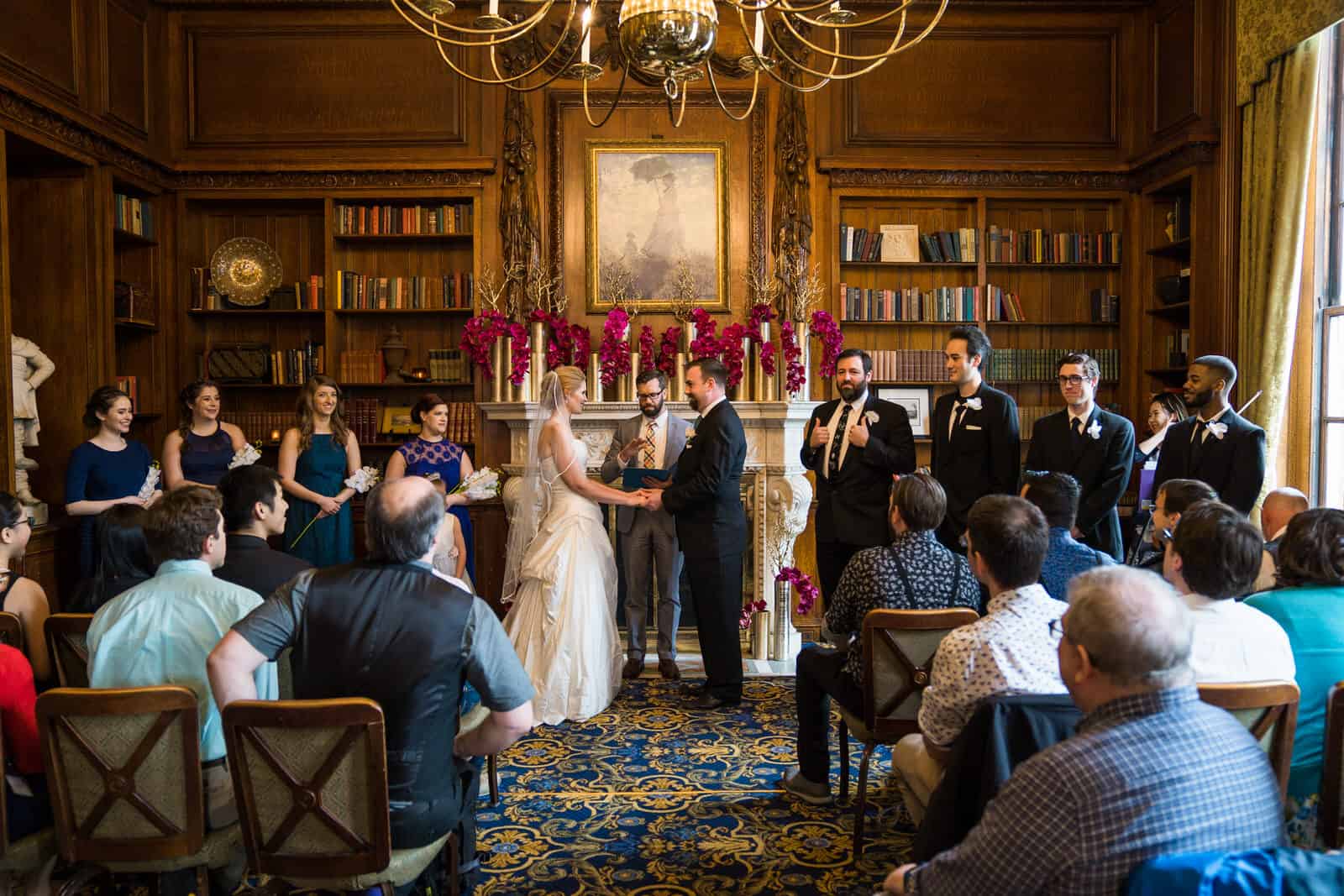 Our Beauty Team
Tiffany Cantin Makeup and Hair:  The day started early in a tiny Godfrey Hotel room, but Tiffany brought positivity and a sense of calmness. She and her team worked meticulously and swiftly to beautify our already stunning actresses. Often, an actress would have her hair and makeup done simultaneously. As Sarah (stage name: Liz) was being pampered, she said, "I feel like a princess. You are making my dreams come true". The bride and bridesmaids looked beautiful, and we have Tiffany to thank.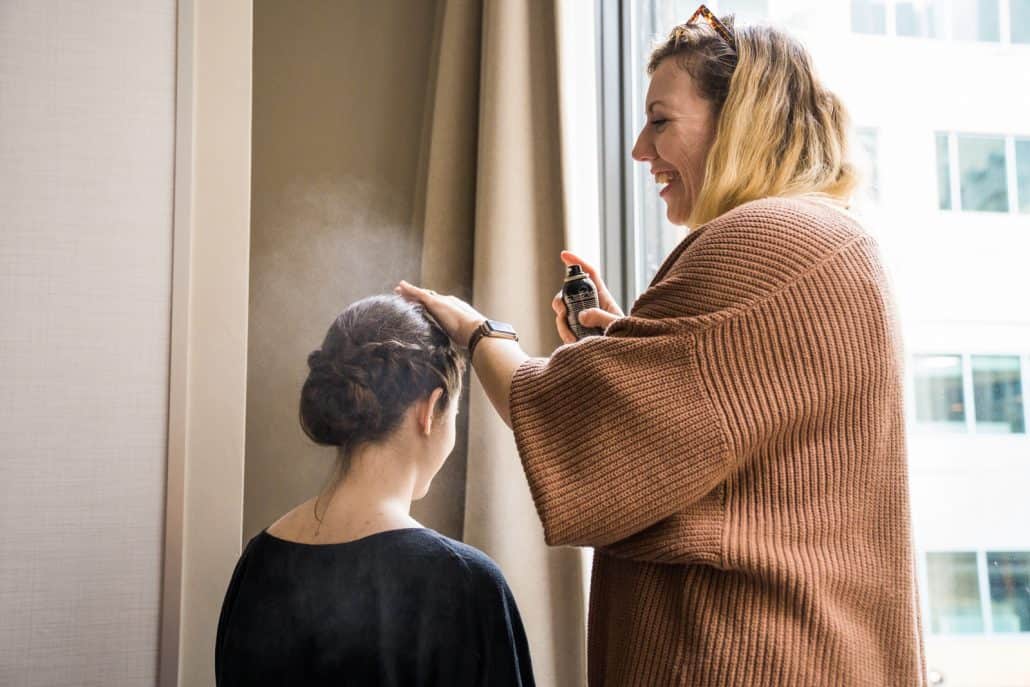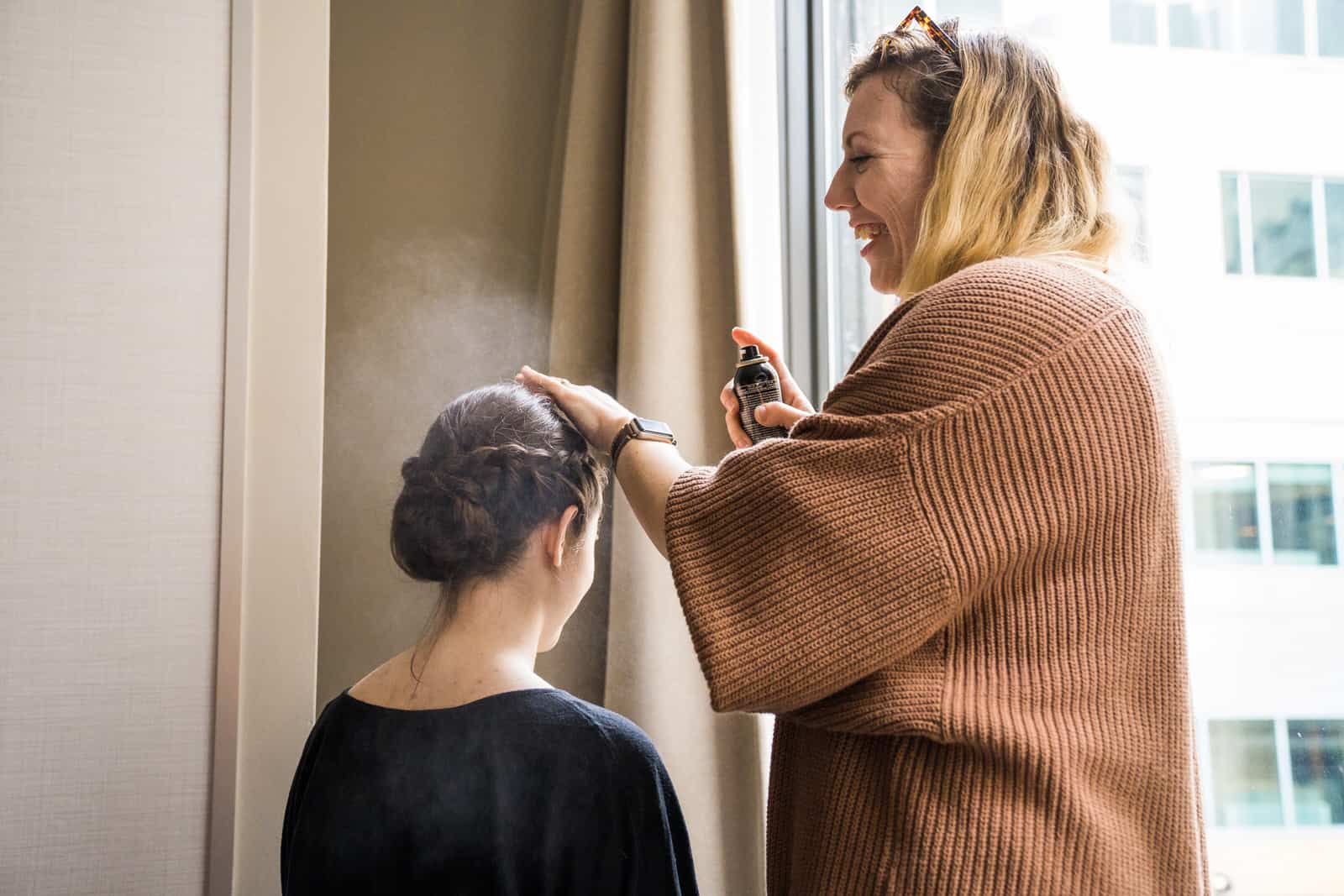 Cape Cod Nail Co: Sarah operates a mobile nail bar, servicing weddings and bridal events. I glanced over at her in the morning and I loved how she could look so peaceful, but also concentrated. She'd be curled up on the edge of a bed shaping nails on top of a colorful yoga seat, covered hygienically by a towel. With our actresses handing out clues, and likely pointing at important items in their respective puzzles, we wanted their hands to look and feel their best.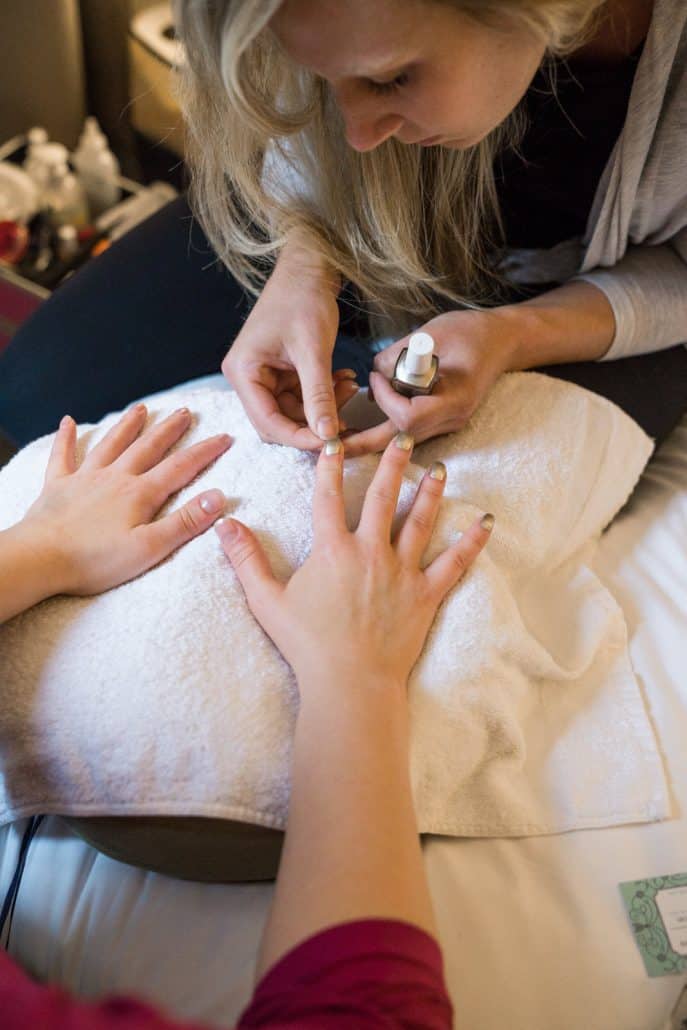 Our Entertainment
Connie, talented ceremony violinist: Having you play beautiful music during the ceremony greatly elevated the  ceremony's elegance meter. Thank you so much for gracing us with your talent!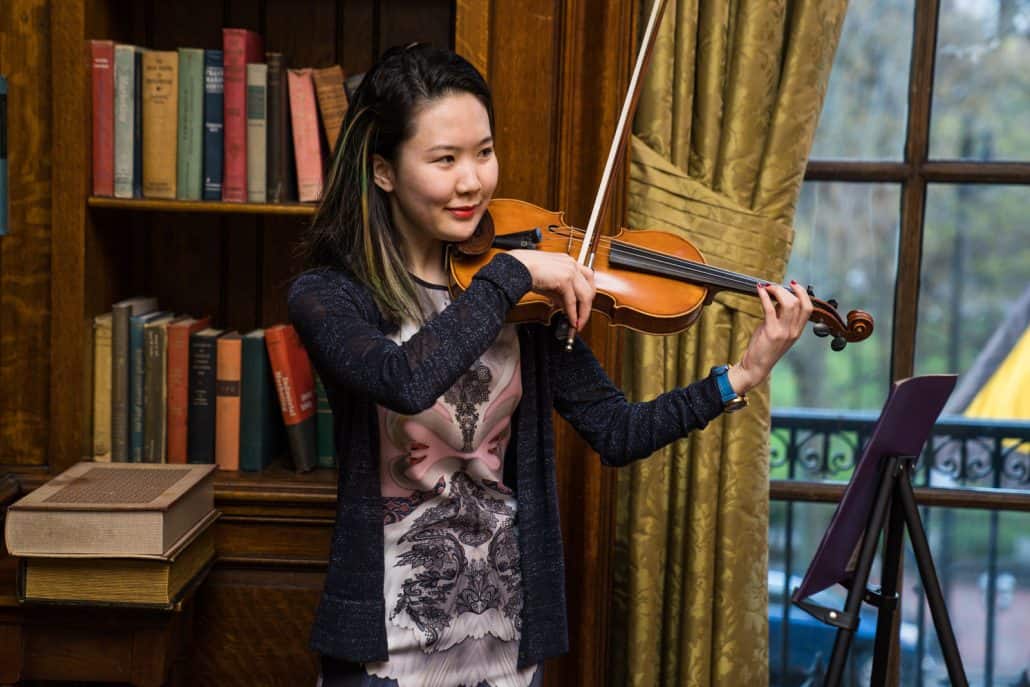 Fermata Town: The room was silent as our puzzlers listened to your beautiful voices. Your team was amazing to work with, and we are very lucky to have such a talented and professional acapella team perform at this wedding. Special thanks for dressing so sharply! Many players noticed the purple theme. 😉
Boston Breaking Movement and Floorlords: Your dancing brought so much energy to the room! Awesome choreography. Amazing wow moments. Thank you for bringing so much charisma to our event!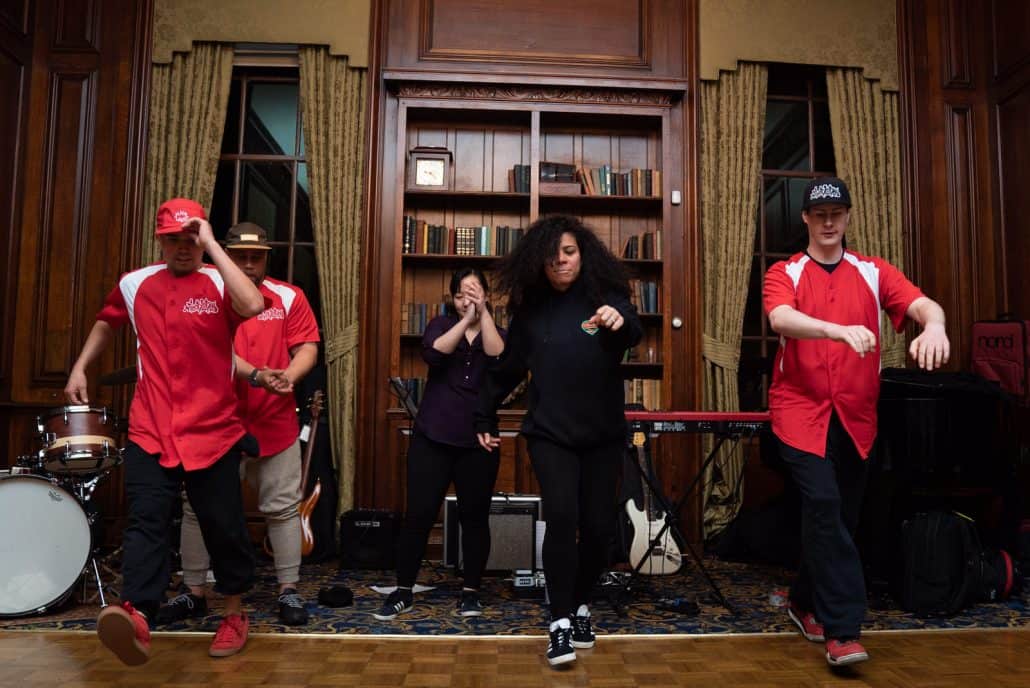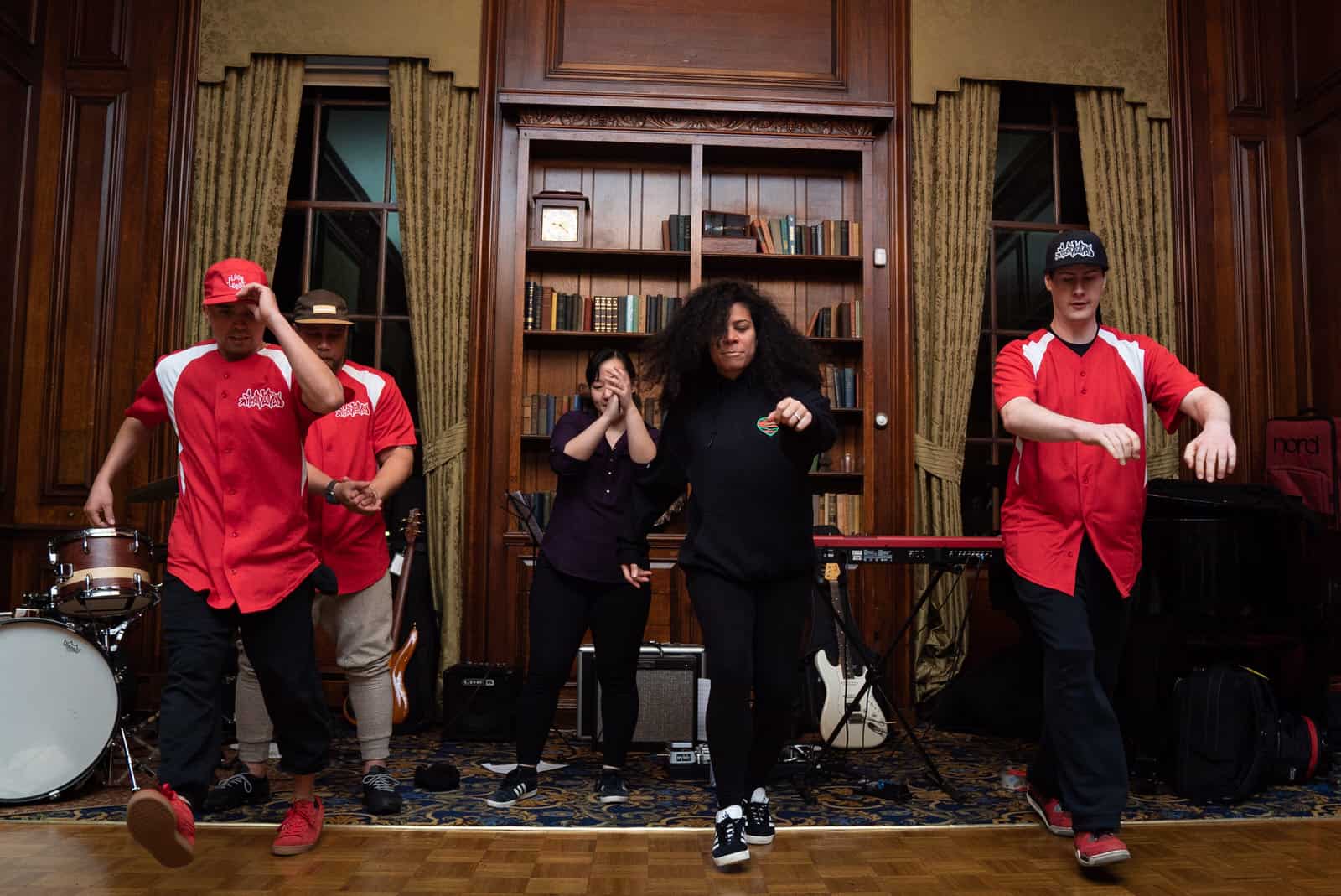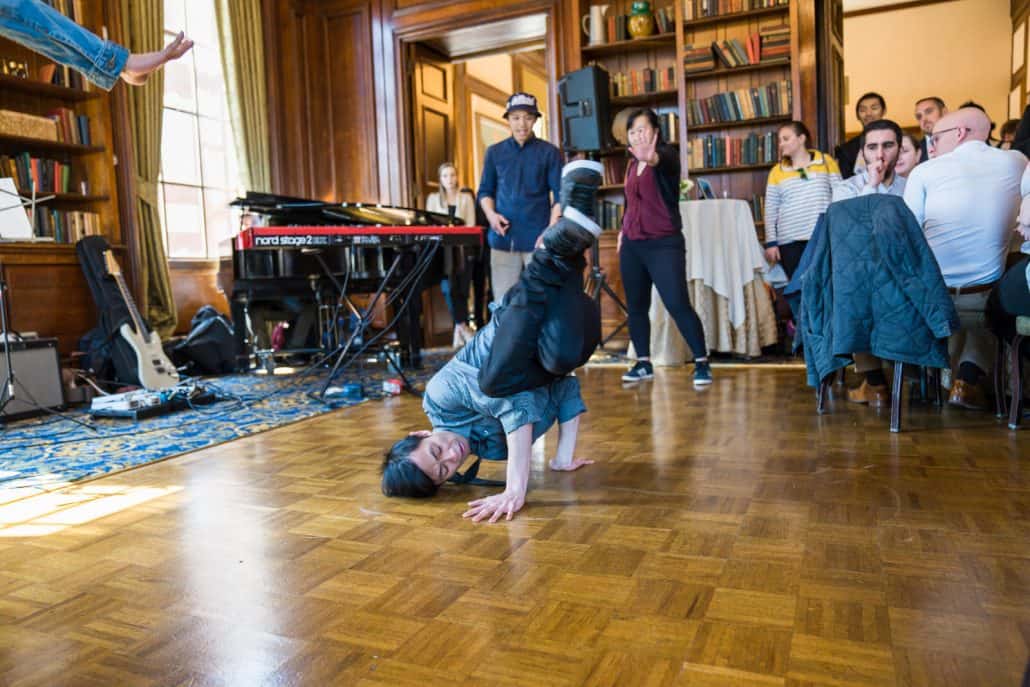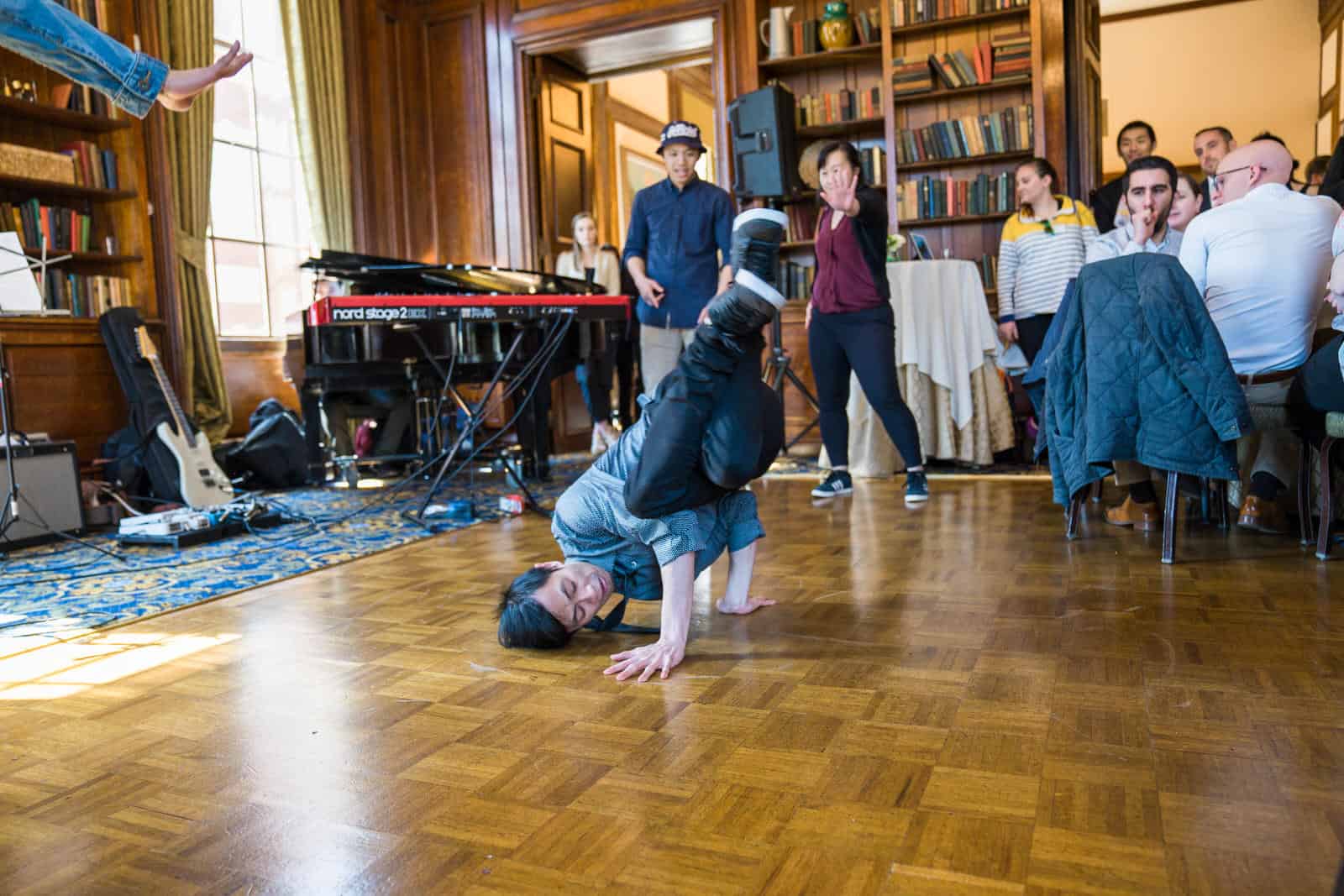 The Grand Prize and Wedding Favors
Lux Box Company: For escape games, we offer high fives and a printed photograph for when players successfully escape or "win" the game. For "Keep Your Garter Up", we wanted to reward our fastest and most cunning team with something better. Enter Lux Box, a family-owned small company with a penchant for thoughtfulness, beautiful packaging, and creative gifting! Thank you so much for creating a custom puzzle-themed prize collection for our winners!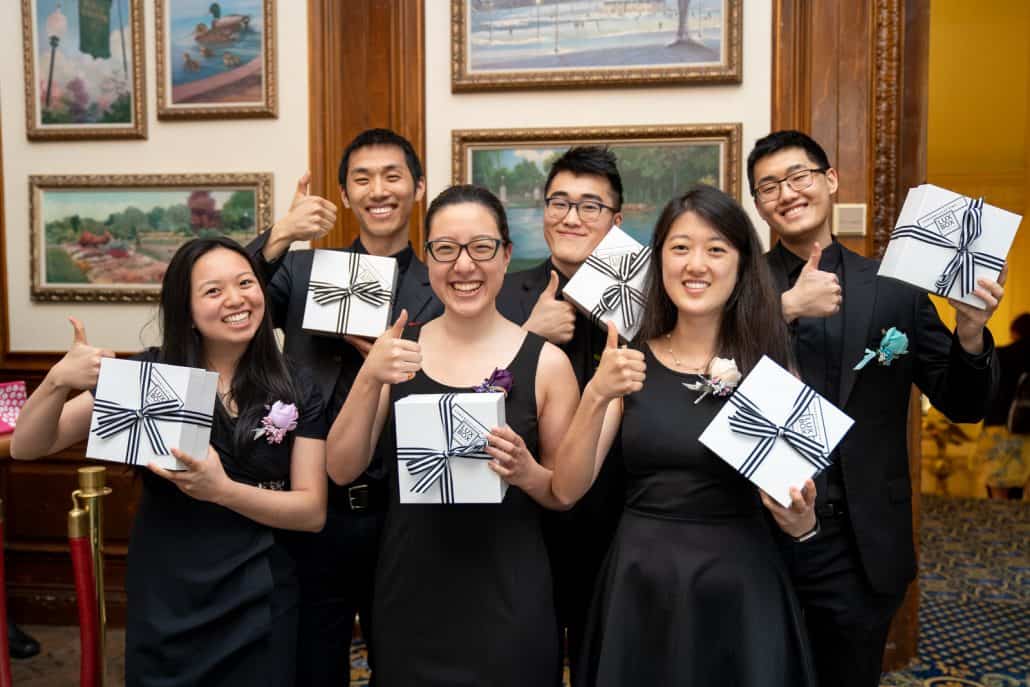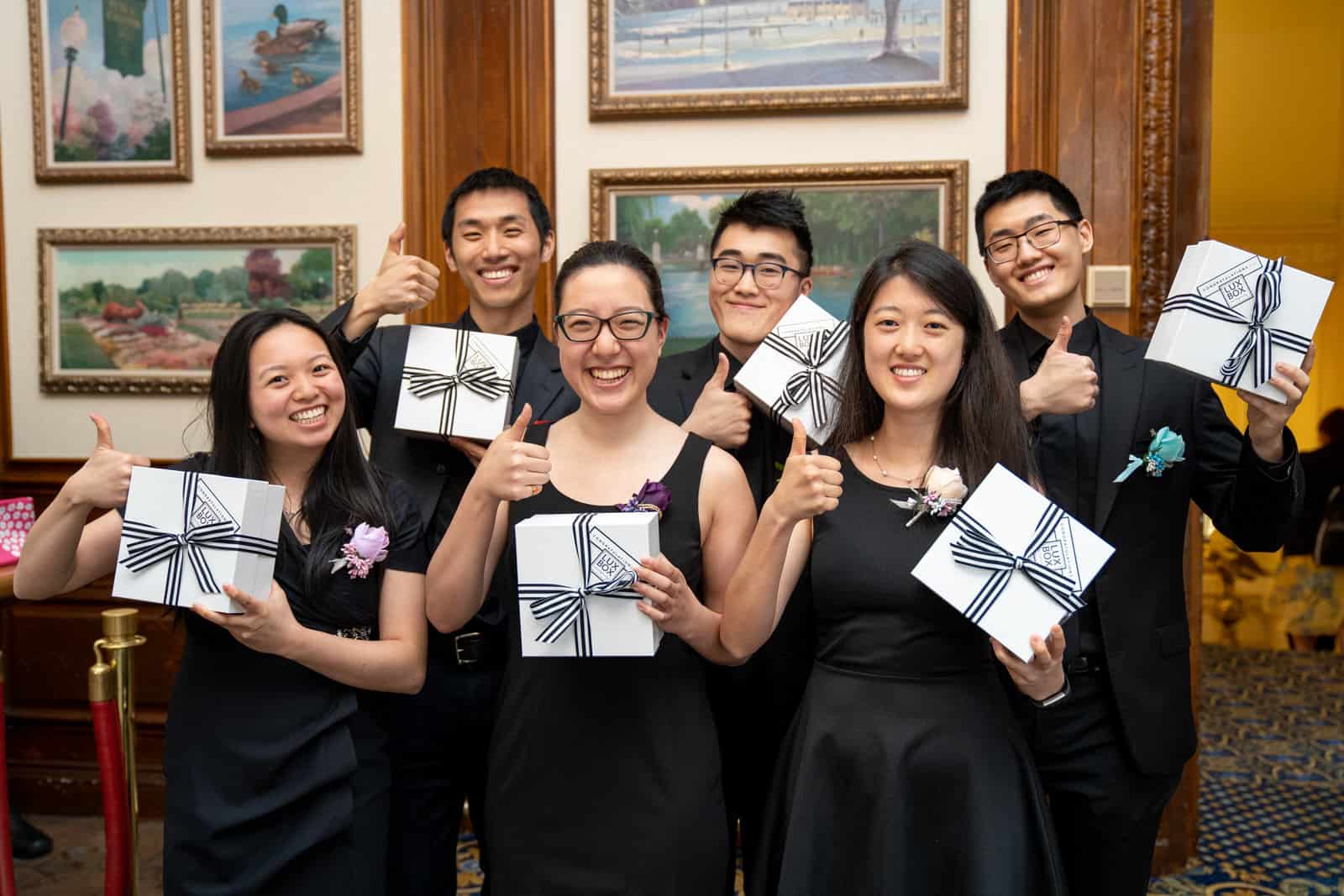 Boston Duck Tour: We have a fantastic relationship with the Duck Tours and are so happy to also be able to offer Duck Tour tickets. Even for someone like me who grew up here, it's was loads of fun. I always learn something and also laugh tons from the driver's limitlessness corny jokes.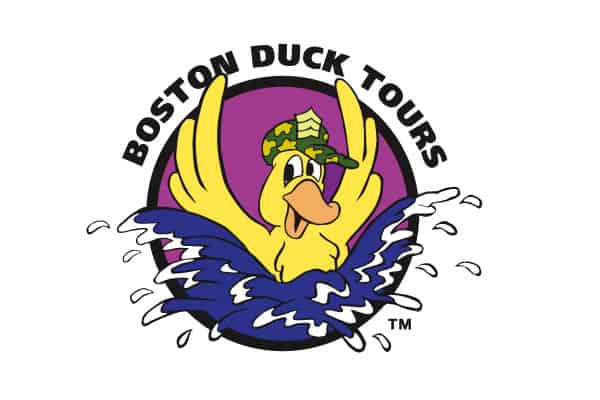 Sideshow sugar: Sideshow Sugar graciously provided 100 boxes of delicious cotton candy as wedding favors. April runs this traveling cotton candy bar and providing freshly made cotton candy for events and weddings!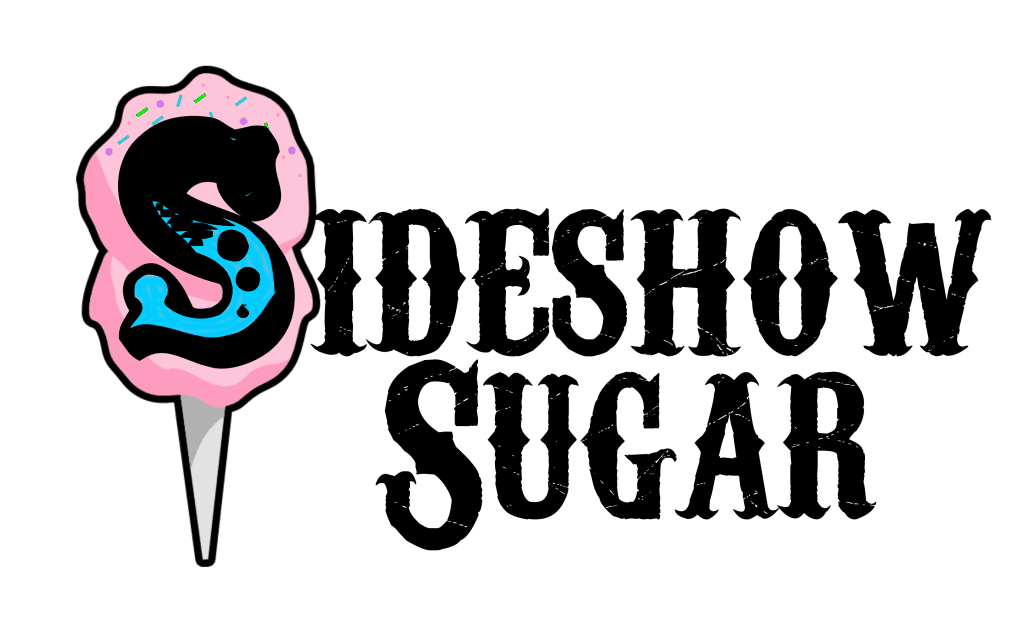 Actors (Wedding Show)
Christina – bride: Ashley M
Jeff – groom: Christopher M
Flower girl: Emelia M
Special Agent Robert: Andy
Best Man – Nate (Seal trainer): Mike H
Groomsman – Jason (Pilot): Jason L
Groomsman – Dylan (Proposed to Micha): Michael
Groomsman – Nick (Drug dealer): Marquese
Maid of Honor – Liz (Cancer Go Fund Me): Sarah B
Bridesmaid – Micha (Pregnant Travel Agent):  Samantha
Bridesmaid – Amelia (Angry girlfriend): Sarah B
Bridesmaid – Carolina (Relapsed alcoholic) – Kendea O
Bruce – Christina's grumpy boss: Sam F
Officiant: Travis G
Carolina's best friend: Hayley M
Coat check: Philip
German-speaking Photographer: Sydne M
VIP Actors: Something old, new, borrowed, blue
Friend in the limo: Karen
Friend in the parking garage: Sarah B
UPS delivery man: Michael
Hotel bridesmaid: Samantha
Special mention to Hayley
Hayley, I usually design with a pen and a notebook on a long flight. Having someone as brilliant and trustworthy as you to bounce ideas off of was invaluable. I am very thankful for our frequent 15-minute, productivity-packed phone calls. They meant a lot to me. Thank you.
The Trapology Team
This is a truly collaborative Trapology effort – creative writing, comic relief, pun development, mass texting, organizational prowess, constant encouragement, and chicken finger consumption.
Tina
Dylan
Liz
Carolina
Nate
Nick
Leanne
Sam
Samantha
And of course, Jason.
[/av_textblock]