If you played an escape game back when Trapology Boston first opened in July 2015, you probably wouldn't recognize our lobby if you walked in today. We put a lot of tender love and care into transforming our lobby from the white-walled, stained-carpet-sh**-hole that it once was, into the inviting, entertaining space and welcoming lobby we have cultivated.
Walk into Trapology Boston today and you are greeted with the smiling face of Trapology team members (that much has stayed the same). After the waivers get signed and the jackets have been hung, you step into our waiting area. Hardwood floors! A free photo booth! High tables and bar stools! Beautifully designed posters! Did you just step into heaven? Who am I to say?
At your disposal, you find a wide assortment of small games to play before you begin your escape adventure. There are cards, trivia, riddles, and physical puzzles… and we are always adding more. We have plenty of seating, and a large, comfortable couch. "How did they ever get that enormous and luxurious couch up that teeny, tiny stairwell?" you wonder. A lady never tells!
That pallette wall you see there? Labor of love is an understatement. A whole lot of trial and error. Sanding, resanding, making the whole damn thing fit together. Laughs were had, tears were shed. Mostly tears. Frankly, it was a little hard to watch, but boy was it worth it.
You sit, you gab, until it is time for your Trapology experience to really begin. One of our staff will put on an animated video for you and your team, explaining our house rules on our 55 inch 4k television. It is quick and highly entertaining. Then you are taken down our mysterious black hallway, until you arrive at your game door. There your live action escape game begins, and there you are fully immersed in the story of the game, forgetting all about the wonderland you left behind….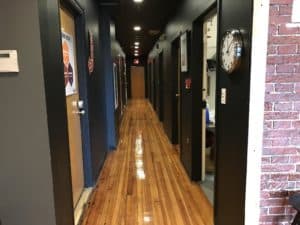 But Rome was not built in a day.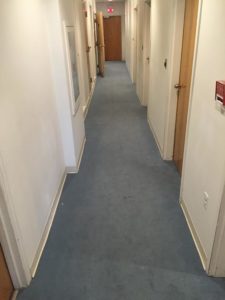 Take a time machine back a year or so and your first acquaintance with Trapology Boston might have been…different. Picture this: white walls. Sad, stained, could-have-been-blue-at-one-time carpeting covering the entire floor. A bench or two. Maybe. That was what we had to work with, what the office had left us with. Talk about starting from scratch! We used to do the rules sitting on the floor because we had no seating! Like animals!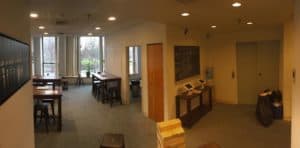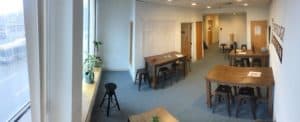 Man. You didn't know how good you had it, did you?
We have come quite a long way. This metamorphosis is just one example of how hard we work to constantly improve. Be it in our welcoming lobby or in our games, we want you to be wowed. We subscribe to the business philosophy that continuous improvements should be made, and hope that our service and lobby space reflects that.
Not only do we want our guests to be comfortable here, in a beautiful and welcoming lobby, but we want that for our team as well. We frequently have game nights here at Trapology where we get together off the clock and play some games, relax, and have some fun! I bet you wouldn't choose to spend extra time at your place of work, but that's how we roll. There WAS that one time when our team had a heated moment over playing the board game "Clue" but we have since buried that bad blood. We are a family and this is our home. A home where we want everyone to feel welcome and comfortable. So come hang out!
The final product (a welcoming lobby)…
We would also love your feedback/input. Let us know if you have a cool idea for our space!