How to Pick an Escape Room
So you've decided you want to try out an escape room but don't know which to pick? Well lucky for you, there's a variety of escape rooms near you! We at Trapology Boston are here to help you learn how to pick an escape room that's best for you.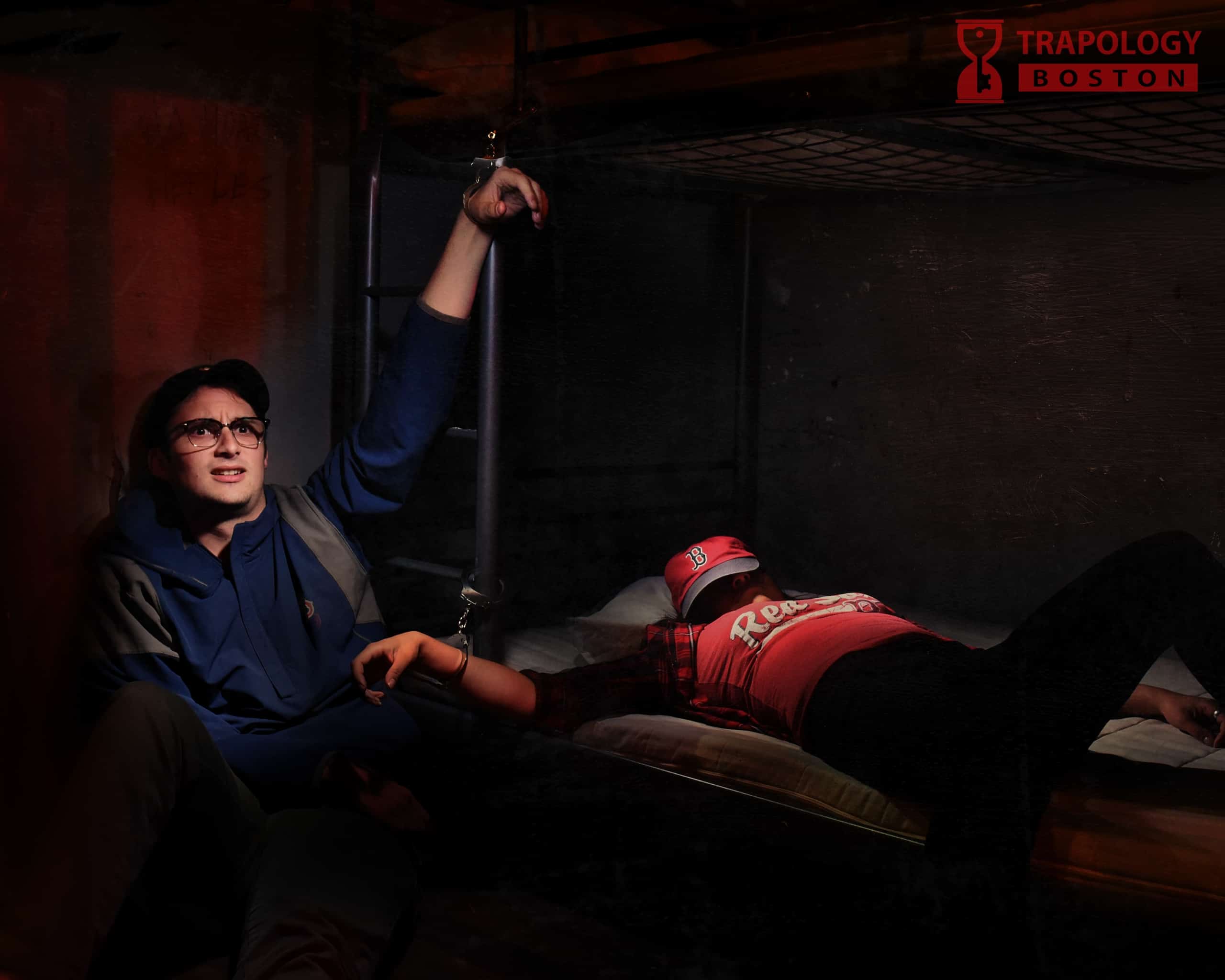 What should I look for in an escape room?
Some rooms can be more challenging than others, and every room has a different theme going on. Stuck on how to Pick an Escape Room? You've come to the right place.
Are you a big horror fan? Then our spooky campsite-themed escape room, The Retreat, is perfect for you.
More of an action buff? Maybe try out The Drunk Tank; we can't tell you much about this one, but you'll definitely enjoy this more traditional room.
Crush Depth holds the title of our hardest game. This haunted submarine-themed escape room is our most immersive room and is quite a challenge for both newcomers and veteran escape room participants.
Looking for a room with lots of puzzle solving? Then try out The Hustler, our escape room where you start out separated from half of your team. Can you meet back up and escape before you find yourself in big trouble?
Finally, if you're looking for a little more mature fun, try out The Boobie Trap. It might look like a coffee shop at first, but behind the scenes is a BDSM dungeon!
How difficult are escape rooms?
Every escape room is different, and so is how hard they are! Escape rooms at Trapology Boston have a success rate of 20-30%, so not every group will get out. Typically, the more people you have in your group, the easier it'll be. Here at Trapology, we give you 3 hints that you can use at any time in case you get stuck. You can use these hints by having everyone in your room dance!
Are different escape rooms suited for different kinds of groups?
The best escape room for beginners here at Trapology Boston would have to be The Retreat, which has the highest success rate of our rooms and can be played with up to 5 people. This also makes it great for a small group looking to just have fun! For large groups, we recommend The Drunk Tank. You can bring up to 10 people to participate in this one!
For a date night, we recommend The Boobie Trap (as long as you're 18 or older!). And if you're looking to schedule a corporate event, The Hustler is great for team building. Communication and collaboration are key in this escape room! And if you're a family with teens, Crush Depth is especially popular.
What should I expect when playing an escape room?
First, your game master will go over the general rules with you, also noting any special rules for the room you are playing. You'll be given a short story about the situation you're going to be placed in, then you're on your own!
Start looking for clues all over the room, locks for where you can insert combinations, and anything else that strikes your eye. There will usually be a timer located somewhere in the room so you can keep track of how much longer you have in the room as well a way to receive hints from your game master. Just remember to not take anything too seriously, the most important thing is that you enjoy yourselves and have a great time.
Who should I play an escape room with?
Anyone can be good at an escape room! The most important thing is that you all work well together to solve the puzzles and get out in time. Maybe don't invite your control-freak friend if you think they'd be too obsessed with winning; it's all about fun after all! And don't be shy to share your ideas, the quietest participants are often the ones who help the most. Rooms do however have a limit on how many people can participate. As of June 2020, all rooms will be privately booked so you will only be participating with the group you come with.
Is location of picking an escape room important?
We think so. It's all about having a good time with your friends and this experience extends even before the game starts – the anticipation – and afterwards, too – the debrief (or as we like to call it… blaming each other for not noticing stuff).
You'll want to find an escape room that's near other local businesses like bars, movie theaters, or restaurants as well as near public transportation.
Lucky for you, Trapology is located right across the street from the Boylston T stop on the green line MBTA and right in between the Downtown Crossing red line MBTA and Theater District areas of Boston! Trapology Boston is in the heart of the city, directly across the street from the Boston Common. We have plenty of suggestions for bars, coffee shops, and restaurants to go to
Are escape rooms worth it?
While we can't guarantee that you'll have a great time, we believe that escape rooms are fun, exciting, and more than worth it! Just look at our reviews if you don't believe us.
How do I find the best escape room near me?
You could google it, or you could Just come on down to Trapology Boston at 177 Tremont Street, Boston MA!