Trapology Boston is the city's most challenging and immersive live escape game. Across multiple personal review platforms, we are recognized for our engaged customer service, our original gameplay, and our beautiful, central location. On Yelp one reviewer, Beth J., said "This company is so great!" and Martin B. of TripAdvisor said "Trapology, apparently, is a synonym for a ridiculously fun time." We love to hear the reflection of those who come to enjoy our rooms.
And now the reasons why Trapology Boston is the best escape game:
Our Team:
Our Team here at Trapology care deeply about our company. We are like a family! We have monthly game nights, and even spend holidays together (like Trapsgiving and our holiday PJ party). Sometimes we spend 3 days in the middle of New Hampshire lauging, eating, and having fun. Most importantly, we play escape games together! We are escape game fanatics, and are happy and enthusiastic to run games for you!
Across the board, none of us had ever had a "work family" that we got along with so well. We absolutely love spending multiple hours a day squeezed into our tiny control room together. If you'd really like to see us in action, check out this game night we all enjoyed together here.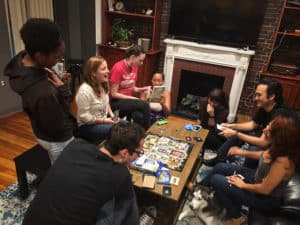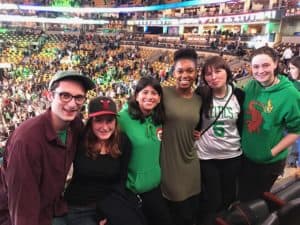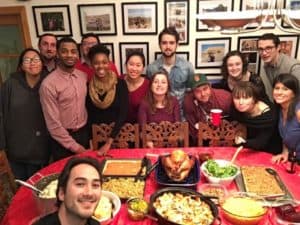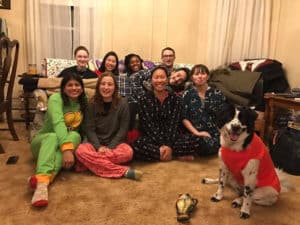 Game Design:
When you play one of our games, you will get to work with a variety of puzzle types. There is something for everyone! Trapology Boston tries to stay on top of all of the latest technologies being utilized in the escape room community. Escape rooms are categorized into 4 generations. The range begins at Gen 1 (the simplest) and ends at Gen 4 (a fully automated room). The games offered at Trapology Boston are designated as Gen 2+ rooms. Though we do not offer fully automated rooms, we are constantly moving away from simple lock and key puzzles. All of our most exciting puzzles are designed and programmed "in house."
We have had great experiences of playing many of the other games in the area. We are always drawing from what we did and did not enjoy in those games to help improve our own. Large logic leaps and an excess of red herrings are extreme turn offs and wreck havoc on the pace and course of any game, we believe. Additionally, any good puzzle has an interesting path from brain stinging obstacles to a relieving and complete end. Cool effects are something we are always hoping to add and upgrade in our rooms. We strive for a mix of struggling and being rewarded with a jaw-dropping effect.
Here's what one of our reviewers, Jenni H. , had to say:
"Expect to feel awed. Trapology is an all out production and immersive experience. All stops were pulled and no expenses were spared. Surprise after surprise will be thrown at you and just when you think nothing more can catch you off guard, BAM. I've done a few escape rooms before but this was head and shoulders above all others on a level of its own. The creativity and work that went into the game becomes more and more evident as you progress.
Expect to feel dumb. At multiple points in the game, I questioned my common sense, and then my ability to think critically, and then my college education, etc. You get the point. This is definitely not an easy escape. There is also no room for slackers. Every person will be busy alternating between the two stages of 1. running around frenetically and trying to avoid crashing into equally frazzled teammates and 2. debating if the risk of permanent damage outweighs the desire to bang your head repeatedly against the wall."
Technology:
We pride ourselves on staying at the forefront of escape room technologies. Along with the traditional lock-and-key puzzles, we design custom tech puzzles that we know will surprise and entertain you.
The staff at Trapology has played many escape rooms, so we know how exciting it is to come across puzzles that are more intricate than simple number locks. We would always rather see three items get specifically placed somewhere and trigger your next clue to appear. None of the rooms offered at Trapology Boston contain only lock boxes; the best escape game wouldn't! Instead, we have high-tech puzzles, designed and programmed completely by Trapology team members. All of these puzzles are on-theme with the room as well. We don't just build tech for tech's sake. We want it to enhance our story lines, and make your entire experience more compelling and exciting!
Production value:
We take great care to make our rooms as immersive as possible. As avid escape room players ourselves, we build rooms that we would like to play in. You won't just be walking into a blank room with furniture. We offer multiple soundtracks to accompany your escape, fog machines to create a mystical atmosphere, and purposefully placed spotlighting to accentuate points of interest in our rooms. We leave no stone unturned in dressing the immersive rooms you will enter. The use of colored gel lighting, or an accompanying soundtrack adds to the overall atmosphere. We are constantly thinking of every detail to guarantee a great experience for all who play. With the dozens of paint jobs and deliberate prop and furniture choices, we believe our rooms speak for themselves.
We recently created a holiday season, pop-up mini game. The team worked tirelessly for 3 days to create a hand-painted winter wonderland mural. When we hire employees, we don't usually ask for talented artists, but it is amazing what wonderful work has come out of our team!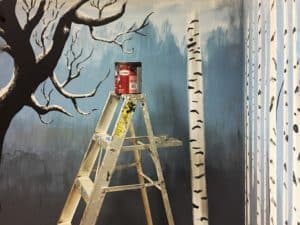 We have endless stories about the process of renovating our lobby space, usually involving the pains of building our beautiful palette wall. Nicole and Jason, the owners of Trapology, periodically went dumpster diving around Quincy, late at night acquiring old and used pieces of wood. They then hauled them all the way back to downtown Boston. There we set up a workshop on our newly acquired 5th floor. There we sanded, cleaned, and hand-stained each piece of lumber. Finally came the task of placing and attaching each piece to the wall… 600 screws later, and voila!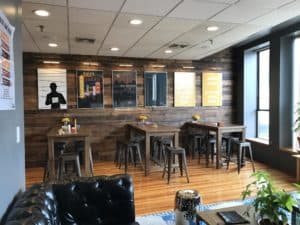 Service:
Our service is relaxed and noninvasive. We want your Trapology experience to be as smooth as possible. A trip to the best escape game in Boston should be fun and worry free. We never spam your inbox, and we always send booking reminders so you won't forget when you are scheduled to play. Plus, as an added bonus, let's just say our rules video is… colorful.
We are often told that our customer service is what makes the difference in our business model. We pride ourselves on having a group of kind, genuine, and helpful individuals sitting in that control room. They bring forward a friendly and welcoming vibe that will be felt from the moment you enter to well after you leave. We are all well trained to support each team with the most helpful hints and guide you with a thorough walkthrough to answer any questions you still may have. Because we are all such fans of escape rooms, our staff is eager to hear your feedback about your time spent at Trapology Boston. We want all the information we can get, in order to give you, and future players the best possible experience.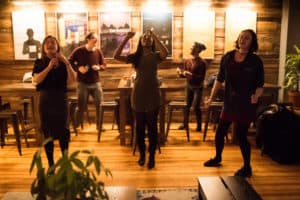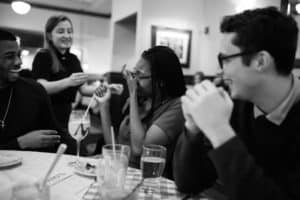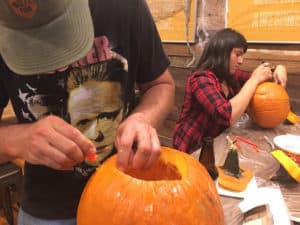 Here is what Zhitong Z. had to say:
"As for the customer service part, our group got put with four strangers to fill the room — and three of them were cool people.  However, one guy had apparently done the exact same game before, and was trying to act like he was just super smart by whizzing through the puzzles (trying to impress his date — which was super lame and a little pathetic).  Because of him taking over all of the first puzzles and not giving others a chance to think, we escaped the room in thirty minutes, which would have been a record time.  We were all a bit suspicious, and these suspicions were confirmed when the staff told us that they checked old tickets and realized we had a 'repeater' in our midst.
Long story short, Trapology actually gave us vouchers because they felt like our experienced got ruined by lame-o!  We really appreciated that gesture, and will definitely return to play 'The Hustler.'  Great customer service!"
Location, Location, Location:
When customers enter into our lobby, they are greeted by our beautiful lobby space. It offers comfortable seating and large windows overlooking the Boston Common. We have a high-tech photo booth that customers can use at their leisure. It includes the ability to share to our social media and even print your photos to take home. We have a convincingly-real looking fireplace, mental games to entertain you while you wait, and a couch so comfy you just might want to sleep over. How many businesses can say that there staff willingly and continuously volunteer to spend hours of their free time just hanging out, on the work premises? We'd wager not many.
Check out a blog on the lobby renovation, here.
Scenario:
You and your friends just had one of the greatest experiences of your life playing the best escape game ever, Trapology Boston. Fresh off your win in the Drunk Tank, and you are ready for an evening of celebration.
If you are looking for a place to enjoy some libations with your friends, check out this list we put together for you here.
Looking for some grub, post-victory or loss? We have your answer here.
We are lucky to be able to offer you a short walk to some of Boston's greatest places to eat, drink, and be merry. The Boston Common Frog Pond, the AMC Loews Cinema, and Yvonne's are all located within a 5-10 minute walk. A similar distance away you will find the Swan Boats in the Public Garden, excellent shopping and fine dining on Newbury Street, and the wonderful main branch of the Boston Public Library at Copley. 
Not only do fun games and original stories help make an escape game great, but the location and local resources add to the entire experience of what is the best escape game a town can offer.
We give back:
As part of our initiative to do some good in this world, we designed a Frosty the Snowman themed escape game in order to raise money and donate to Women's Lunch Place,  an organization that provides hot meals to homeless women in Boston. With winter coming to a close, we used remaining funds to buy warm hats, gloves, socks, and blankets to give to the homeless population in Boston.
Trapology joined forces with Omaze and created a pop-up mini game for Chris Evans and a few unsuspecting customers of the local comic shop, Comicazi. This game was created to add to the ongoing sweepstakes Omaze had put together to win the chance to play an escape game with Chris Evans. This project benefitted Christopher's Haven, a local charity providing housing for children battling cancer and their families. It was an honor to work with Omaze and Chris Evans and to know that our work directly influenced the lives of those children. You can read more about that experience in our blog, here.
Check out the Omaze video, here.
And our "behind the scenes" video, here.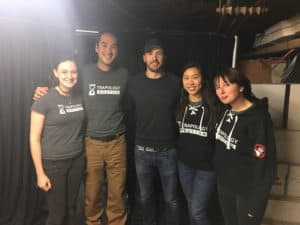 We care:
Our team cares about our customers. We care about your feedback. Our team actively encourages and appreciates players' thoughts on gameplay. We want your experience to be the best it can be, and we love any suggestions you might have.
To tell you Trapology Boston is the best is completely partial. Yet, we have to let you know that we just can't shy away from sharing why we love this place so much. And we are very lucky to have past players do the same.
Trapology Boston is ready to provide you with the best hour and change that you can have locked in a room in Downtown Boston. Come and see for yourselves, the best escape game in the area!
We suggest you read this Boston.com article written about the best escape game in Boston. Come on by to see for yourselves.