Break out the birthday cake and the party hats – it's Trapology Boston's second birthday! What a wild two years it's been. It's been a rollercoaster of fun for the Trapology family, and for our celebratory blog post, we are going to take you back in time to July of 2015, when we first opened.
Let's set the scene. July 2015 in beautiful Boston, MA. We are well into the 15th year of the 3rd millennium. Omi's "Cheerleader" is the song of the summer. The Greek government debt crisis was in full swing, and the U.S. and Cuba had just established full diplomatic relations. The gamemasters as you know them are spread far and wide across the country, having never met one another, and a young Jason and Nicole unknowingly are about to set out on an adventure of a lifetime.
Earlier that year, Nicole played her first escape room in January. About a month later, Jason and Nicole were flying home from Tanzania, where they worked nursing baby birds back to life with their bare hands. On their flight home, they had a layover in Istanbul where they played their second game. At this point, Nicole was thrilled by the idea of escape games, and just could NOT hold it in any longer. On the flight home to Boston she designed Trapology Boston's most challenging game: "The Drunk Tank".
She and Jason worked tirelessly to find the perfect location. It couldn't be too small, but it also needed to feel intimate, and homey. They wanted to find a place they could grow in. In late spring, they signed a lease for Trapology's future home, right on the Boston Common, the perfect boston-central location. With it's close proximity to plenty of bars and restaurants, and being right across the street from the Boylston T-stop, it had to be destiny.
Smash cut to:
Two months later. The buildout was done. Jason and Nicole hired their first employees, Pam, V and Nate, then brought on one kickass manager, Tina. In the following year, we worked tirelessly to transform our lobby space into the magnificent wonderland it has become. You can read all about the renovation in this blog, but here's a little taste!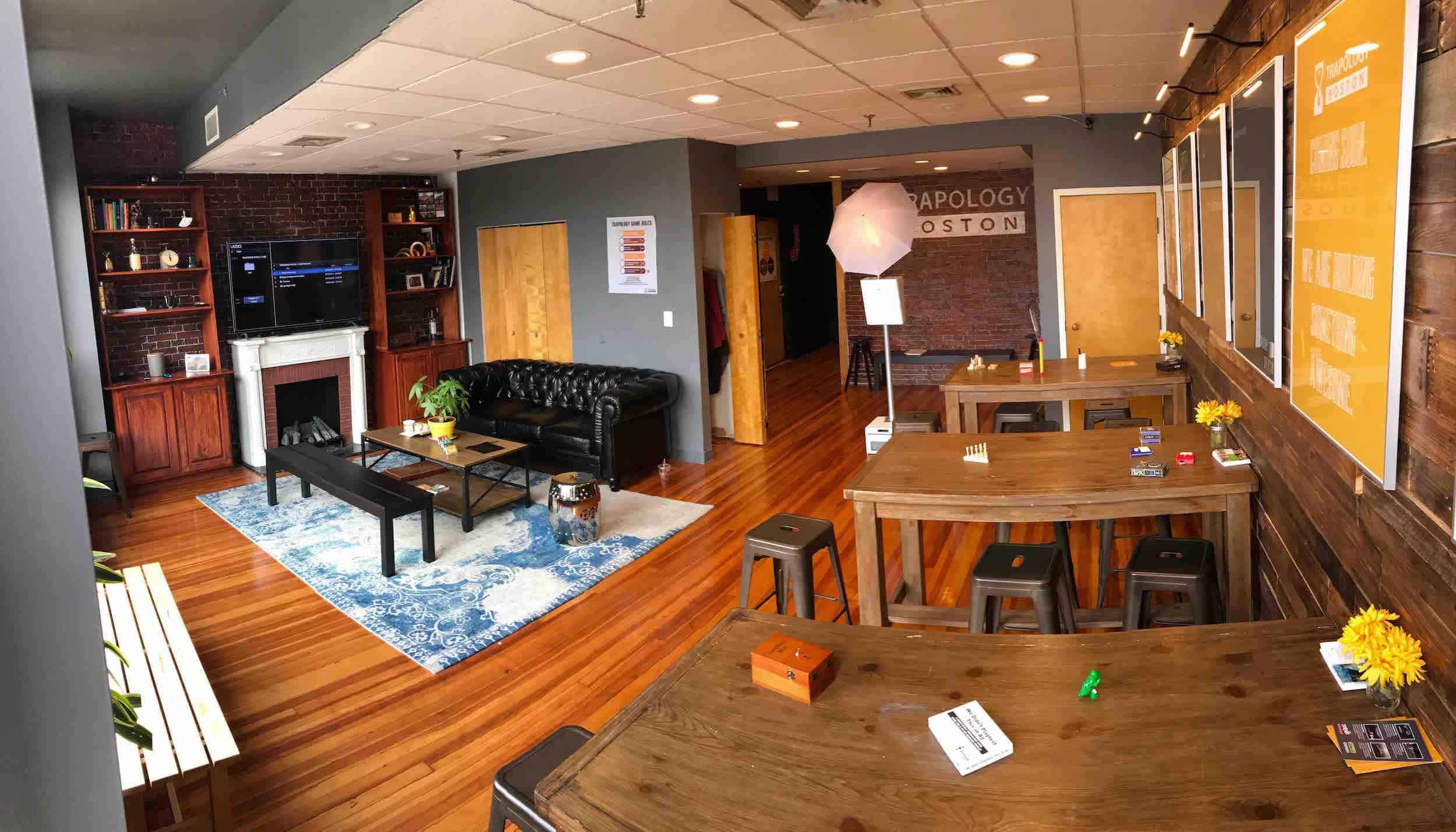 The Trapology family continued to grow, and we cherish each other very dearly. We spend tons of time together, outside of the office, hanging out, playing other escape games, and generally having a great time. You can read more about our staff and our adventures, like the time we had a secret Santa Christmas party, or our staff retreat, or our amazing Trapsgiving dinner!
Trapology Boston is now host to three immersive and engaging generation 3 escape games. "The Drunk Tank" was followed by "The Hustler," which plays upon a gambling/restaurant theme. We are currently beta testing our third game, and everything is going well! It is called "The Retreat," and is set to a rather spooky camping theme. Hopefully, by the time this blog gets posted, "The Retreat" will be completely up and running, and you and your team can book tickets!
So much has changed, but we are nowhere near finished building upon what Jason and Nicole started these short two years ago. We've got some tricks up our sleeve, and we cannot wait to show you! Stay tuned!